Gen Qamar witnesses multinational air exercise in Sargodha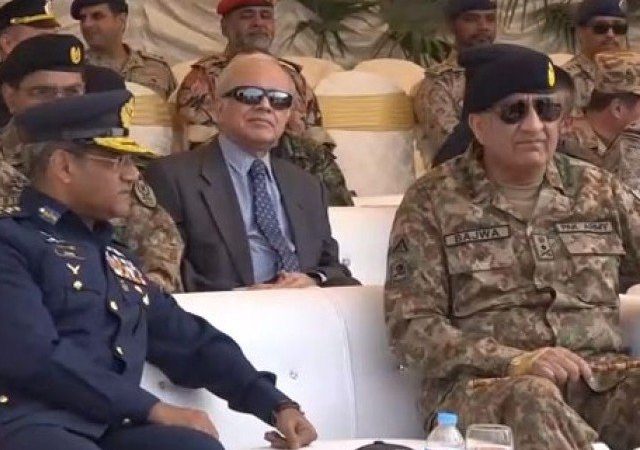 SARGODHA, OCT 26 (DNA) – General Qamar Javed Bajwa, Chief of Army Staff (COAS) visited PAF Base Mushaf Sargodha and witnessed ongoing multinational exercise ACES meet 2017 at Air Power Centre of Exlence (ACE).
Other than Pakistan, contigents of Royal Saudi Airforce and Turkish Airforce are participating in exercise where as 8 countries are participating as observers in 2 weeks long exercise started on 16 October.
COAS was briefed on ACE training facility and the scope of exercise which is aimed at projecting mutual cooperation between the Air Forces and consolidate upon modern concepts especially in domain of Counter Terrorism Operations .
COAS thanked PAF for the opportunity to see the exercise and acknowledged PAF contributions / support in fight against terrorism. COAS hailed operational readiness and professional expertise of the PAF.
Addressing at the occasion, Air Chief Marshal Sohail Aman, said that the existing global security scenario coupled with changing dynamics of warfare calls up for enhance partnership among nations and their armed forces.
He added that the establishment of PAF ACE was a strategic initiative for developing a unique institution to share with friendly air forces the rare experiences PAF has gained in counter terrorism operations. He further said that the air operations have to remain in sync with surface operations to make decisive gains on the ground.
Upon arrival at base; COAS was received by Chief of Air Staff, Air Chief Marshal Sohail Aman. Chief of Naval Staff Admiral Zafar Abbasi, defence attachés of various countries and other senior officers from three services were present.