Geeta to return home on Monday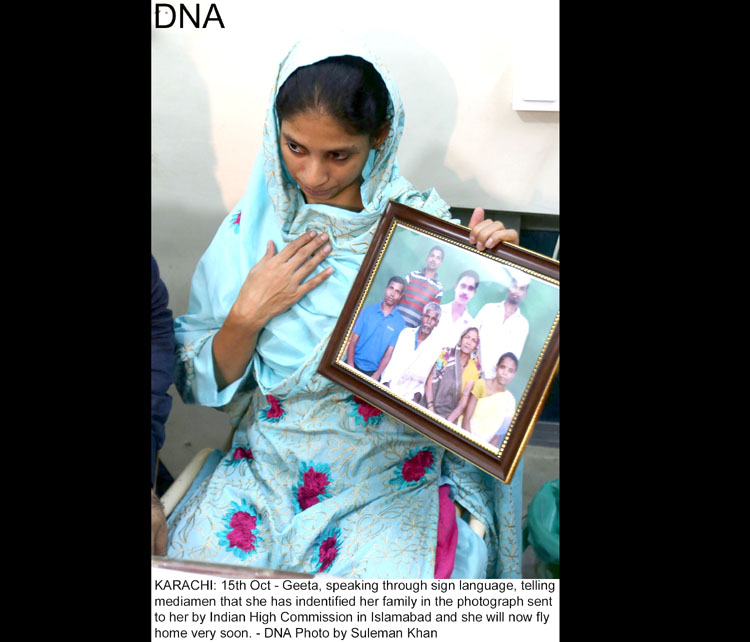 NEW DELHI: The mute and deaf Indian woman who has been stuck in Pakistan for more than a decade because she could not remember where she came from will return home on Monday after apparently identifying her family.
India's foreign ministry said on Friday that the young woman, known only as Geeta, would undergo DNA testing to establish whether she is related to the people claiming to be her family.
The prospect of a long-awaited reunion comes after Geeta indicated earlier this month that she recognised a photograph of a family from the eastern state of Bihar sent to her by Indian authorities.
"Geeta has already identified one family as possibly being that of her parents," Indian foreign ministry spokesman Vikas Swarup said at a media briefing in New Delhi. "We will be doing DNA tests to establish conclusive proof."
Geeta, who is believed to be in her twenties, will be accompanied by members of Edhi Foundation, the charity that has been looking after her in Pakistan.
She was 11 or 12 when police found her, alone and disorientated with no identity papers, on a train that had crossed the border from India into the eastern city of Lahore.
She was believed to have strayed into Pakistani territory by mistake, but could not remember or explain exactly where she was from.
Police handed her over to the Edhi Foundation and she now lives in one of their shelters in Karachi.Even the name "Geeta" was given to her by Edhi staff.
If her DNA does not match that of the family, who have travelled to Delhi specially to greet her, authorities have said they will find a home for Geeta in a "suitable institution".
India's government pledged in August to bring her home, after a hit Bollywood film returned the case to the media spotlight.
"Bajrangi Bhaijaan", featuring Indian superstars Salman Khan and Kareena Kapoor, tells the mirror image of Geeta's story: a mute young Pakistani woman trapped in India.
Swarup rejected criticism in some media that Geeta's return was hasty given that her ties with the family were not yet established.
"Everything we have done so far has been with the full knowledge and concurrence of Geeta and Edhi Foundation," he said.
Pakistani human rights activist Ansar Burney, who has been closely pursuing Geeta's case, had travelled to India in October 2012 with photographs of the girl but was unable to make progress in the case.
According to media reports, Geeta is a vegetarian and has set up a small "mandir" in her room at the Edhi Foundation where she prays. She also observes the Ramazan fast.