Friend of Pakistan Ambassador Emilian given an emotional send off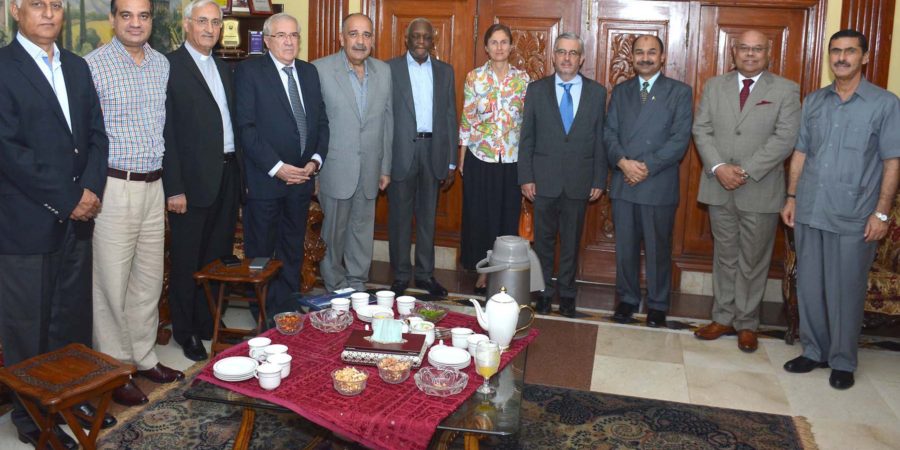 ISLAMABAD, AUG 1 (DNA)-  A great friend of Pakistan Emilian ION Ambassador of Romania has left Pakistan after completing his tenure. Some touching scenes were witnessed at the last breakfast of Ambassador Emilian in Islamabad, hosted by Walid Abu Ali Ambassador of Palestine.
Ambassador Walid Abu Ali became emotional while seeing Ambassador Emilian off. "Today is a very sad day for all of us and especially for me because a great friend is leaving", he added.
Ambassador Walid further said it was such a wonderful time he and his family had spent with Ambassador Emilian during his stay in Pakistan adding he will be remembered for ever because of his great work has done for promotion of bilateral relations.
Chief of Protocol Ministry of Foreign Affairs Sahebzada A Khan, Additional Secretary Tassawar Khan and ambassadors of Australia, Jordan, Holy See, Sri Lanka, South Africa, Portugal and the Netherlands were among the distinguished guests who attended the breakfast. Guests were served with traditional Palestinian cuisine.
The outgoing ambassador thanked the hosts for sumptuous breakfast. In his brief remarks he mentioned some of his achievements he had made during his seven and half years stay in Pakistan.
Ambassador Emilian also became emotional and he said goodbye to all his friends present on the occasion with an extremely heavy heart. " I cannot express my emotions and feelings that I have at this point in time when I am leaving this great country after spending a long period of time. I will certainly miss Pakistan and Pakistani people and their hospitality", he said with tears trickling down from his eyes.
Later, Ambassador Emilian presented book on Romania to the host family and similarly Ambassador Walid presented to the guest a gift and an pictures album. =DNA
============================