FPCCI, Sindh Women Commission, First Women Bank to hold awareness session for women: Nazli Abid Nisar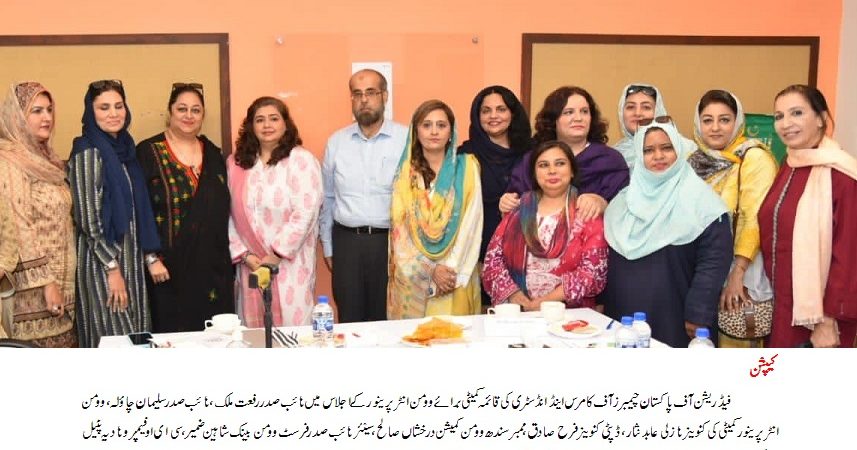 KARACHI: Nazli Abid Nisar has said that FPCCI, Sindh Commission for Women and First Women Bank will work together to give women maximum opportunity to move forward, and make them aware of their rights. In this regard, awareness sessions will be organized and full support will be given to the issues facing women, especially to facilitate them in doing business and also to give them legitimate rights in inheritance.
Speaking at a meeting of the 2nd Central Standing Committee of Women Entrepreneurs was held at FPCCI, Karachi office. She said that FPCCI strives to highlight women's issues and their rights. Women should get business opportunities in every field especially agriculture, fisheries etc. are noteworthy.
Rafat Malik, VP FPCCI, VP Suleman Chawla, Shabbir Mansha Churra, Convener Women Entrepreneur Committee, Former VP FPCCI, Founder President of Karachi Women's Chamber of Commerce & Industry Malir (KWCCI). Nazli Abid Nisar, Deputy Convener Farah Sadiq Khan, Member Sindh Commission for Women Darakhshan Saleh, Senior Vice President First Woman Bank Shaheen Zameer, CEO Fempro Nadia Patel Gangjee, Chairperson National Business Council Hina Mansab Khan, Mehreen Elahi and a large number of women entrepreneurs participated.
Nazli Abid Nisar added that the skills of women working from home in Sindh rural were invaluable but they do not get their due right so now it is time to provide equal business opportunities and benefits to all. She suggested that a one-window facilitation should be provided at FPCCI, where representatives of 24 departments are present so that women entrepreneurs do not have to go around.
Rafat Malik, VP FPCCI said women entrepreneurs should come forward in the fields of trade & industry while provision of easy loans from banks should be ensured for women entrepreneurs.
Hina Mansab, Chairperson National Business Council urged all the women's chambers to work together, said that no position is required to work for the advancement of women, and in this regard former Vice President of FPCCI Nazli Abid Nisar We have the example of
Darakhshan Saleh, member Sindh Women Commission, said that the Sindh Commission was playing an active role in solving the problems of women in which the role of women in inheritance was very important. Sindh Women Commission has set up a helpline number where women can easily call and seek legal help. The legal team will give them full support.
Shaheen Zameer, SVP First Women Bank was of the opinion that their bank is a testament to the confidence of women where women are provided all possible facilities to obtain loans and other services on priority basis. Encouraging and guiding women entrepreneurs are also among the top priorities of the bank.