Four players suspended after fiery US-Mexico soccer game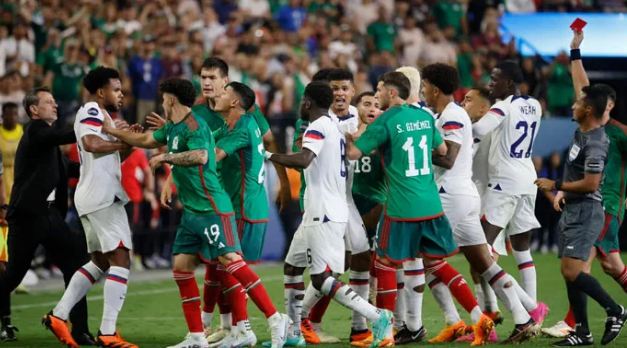 Las Vegas: Four players involved in the heated soccer match between the US Men's National Team (USMNT) and Mexico have been handed suspensions, following the game's aggressive nature and contentious crowd behaviour.
The match, which took place last week at Allegiant Stadium in Las Vegas, was marred by pushing, shoving, and discriminatory chants from the spectators, resulting in the contest being cut short by about four minutes. Concacaf, the governing body for soccer in North and Central America, announced the suspensions on Friday, citing "on-field player misconduct" as the reason.
César Montes from Mexico and Weston McKennie from the USMNT, whose shirt was torn during a scuffle, received the harshest penalties, with both players being suspended for four games. Gerardo Arteaga from Mexico and Sergiño Dest from the USMNT were each handed three-game suspensions. The suspensions include an automatic one-game ban and must be served during Concacaf national team competitions.
Tensions reached a boiling point just before the 70-minute mark when Montes kicked out at Folarin Balogun, resulting in a red card. Shortly afterwards, McKennie was also sent off for his involvement in the ensuing altercation. Fifteen minutes later, another scuffle between Arteaga and Dest led to both players receiving straight red cards for pushing each other.
In addition to the suspensions, Concacaf imposed an undisclosed fine on both federations involved in the match. They were also warned that further incidents in their upcoming matches would result in even more severe sanctions. CNN has reached out to the US and Mexican federations for comments on the matter.
The USMNT emerged victorious in the match, securing a 3-0 win. They went on to claim the Nations League title with a 2-0 victory against Canada three days later. The teams are now preparing for the upcoming Gold Cup, where the USMNT is scheduled to face Jamaica in Chicago on Saturday, and Mexico will take on Honduras in Houston on Sunday.
The suspensions serve as a reminder of the importance of maintaining sportsmanship and fair play on the field. Such disciplinary measures aim to discourage future incidents and promote a positive and respectful atmosphere in soccer matches.