First lady Samina Alvi calls for full year awareness campaign on breast cancer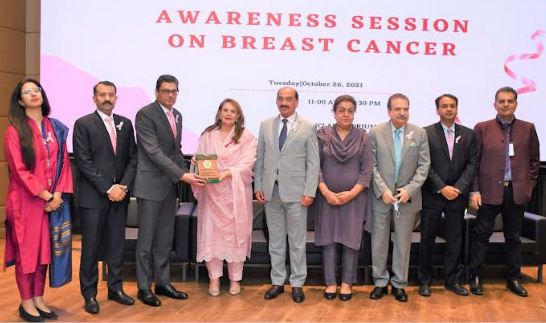 ISLAMABAD, OCT 26 /DNA/ – First Lady Begum Samina Alvi said that one woman in every 13 minutes is diagnosed with breast cancer and about one lakh women are diagnosed with this disease every year in Pakistan, which shows that this disease is spreading dangerously in our country.
Therefore, it is very important that awareness campaign about the disease should be launched throughout the year instead of just in October so that maximum women could be made aware of the causes and treatment of breast cancer.
She said this while addressing as Chief Guest an awareness seminar on breast cancer organized at the Islamabad Chamber of Commerce and Industry, which was attended by a large number of women from various walks of life, including businesswomen. Jamshed Akhtar Sheikh, Senior Vice President, Muhammad Faheem Khan Vice President ICCI, MianAkramFaridChairman Founder Group and others were also present on the occasion.
Begum SaminaAlvisaid the mortality rate from breast cancer in Pakistan is 40-45% and over 90 percent women can recover from this disease by early screening &diagnosis. She said that every woman after getting awareness of this disease should inform 10 more women to spread maximum awareness about this disease.
She said that women who recover from the disease can play an important role in raising awareness among other women. She said that the President House has written a letter to MNAs to spread awareness about breast cancer in their respective constituencies. She also asked the women to avail the government'sbusiness loan scheme for doing business and if they face any problem, they should call the SBP helpline so that they could be helped. She appreciated the initiative of ICCI for holding the awareness seminar and hoped that the Chamber would continue holding such useful programs in the future as well.
In his welcome address, Muhammad ShakeelMunir, President, Islamabad Chamber of Commerce and Industry, said that breast cancer was spreading rapidly in Pakistan due to which 40,000 women die of the disease every year.
He urged the government to set up a national cancer registry to collect data at the national level for better prevention of the disease."The majority of our population lives in rural areas, and there is a serious lack of awareness among women about the disease," He said. In addition, the basic health units in rural areas lack staff and facilities for the disease, so he demanded that the government should provide women medical staff and other facilities in rural health units for screening of breast cancer.
He further said that the government in collaboration with private hospitals should launch a national screening campaign for the eradication of the disease across the country. He vowed that ICCI would continue to conduct such awareness programs in future to create awareness among more women and save them from the disease.
Dr. Muhammad Farrukh, Oncologist,Shifa International Hospital and Dr. Yasser Rehman, Oncologist, Maroof Hospital, gave detailed presentations on the causes, symptoms, preventive measures and treatment of breast cancer. Sonia Qaiser, Senior Board Member, Pink Ribbon Pakistan, briefed the participants about her organization's efforts to control breast cancer.
Former Senior Vice President ICCI Fatima Azeem thanked First Lady Begum SaminaAlvi and all the participants for attending the awareness seminar and also highlighted the efforts of the Chamber for the advancement of women.=DNA
===================