First annual prize distribution ceremony of LUMHS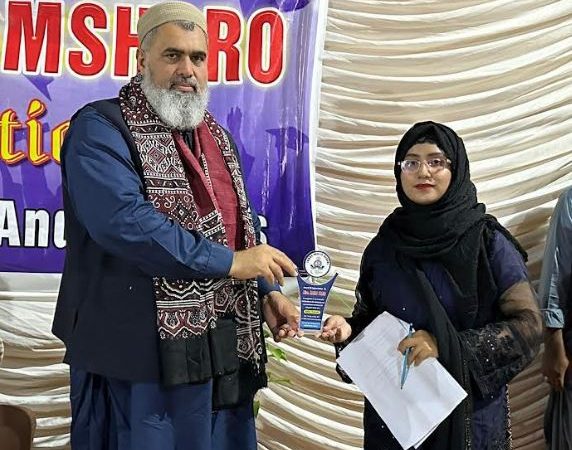 By Rehan Khan Khushik
HYDERABAD. The first annual prize distribution ceremony of Liaquat University of Medical and Health Sciences Jamshoro Public School Jamshoro was held in which the special guest, LUMHS Vice Chancellor Professor Dr. Ikram u Ddin Ujjan while speaking to the ceremony said that it was started last year but due to quality education of this school, so many children of employees of other institutes and private people came for admission that we have less classes.
He said that we are trying to build new classes, the construction of which will be started as soon as possible.
He also announced that the construction of a computer lab in case of starting the ninth and tenth classes of the school and appreciated the hard work and efforts of the school management.
On this occasion, the guest of honor, the newly elected chairman of District Council Jamshoro, Sohail Ahmed Shoro, said in his address that the heart was very happy to see the beautiful program today that there is such a good school in our district which is providing the best education at very low fees.
He announced that PPMPA Kotri, Sardar Malik Asad Sikandar said that district Council Jamshoro will build new classrooms in the school and Pakka Road for the school.
Habib Naveed, Chief Operating Officer of Green Crescent Trust, said in his that knowledge Acquiring is the basic need of every human being, especially when a girl child is equipped with the jewel of knowledge, she goes ahead and prepares a good generation in the form of an educated mother who serves the country and the nation better, so with children.
He said that special attention needs to be paid to the education of girl child.
On this occasion, prizes were distributed among 20 first, 11 second, and 13 third position students while a total of 113 prizes were distributed.
Among the other special guests were Registrar LUMHS Dr. Haji Muhammad Sheikh, Engineer Zeeshan Yousafani, Colony Incharge Dr. Musrat Abaro, Ali Ahmed, Laswa President Saeed Lashari, General Secretary Makhdoom Ashfaq Abbasi, Ashfaq Rajpar, Niaz Chandio, Waheed Brohi, Nazir Nohani, KK Brohi and others were present while a large number of parents also participated in the programme.
Photos. VC LUMHS Jamshoro Dr Ikram u Ddin Ujjan distributing prizes.