One FC personnel killed in 'miscreant attack' in Quetta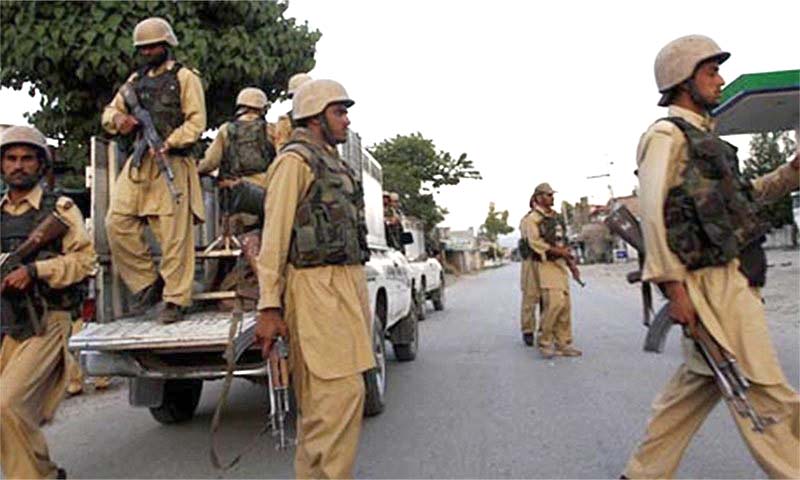 QUETTA: At least one Frontier Corps (FC) personnel was killed and three others injured on Friday evening during an exchange of fire with suspected militants in Sariab Road area of the city.
One of the suspected militants was also killed during the exchange of fire .
FC Spokesman Khan Wasey stated that security personnel were on routine patrolling close to a railway track when they were attacked by "miscreants".
"One security personnel was killed in the attack," the spokesperson informed, adding that one "miscreant" was killed as a result of timely retaliation.
The attack on FC comes a day after an administration official and six personnel of the Levies Force were killed and four others suffered injuries in a clash with suspected militants in the Koldan area, 85km off Gwader.
According to Deputy Commissioner of Gwadar Dr Tufail Baloch, Naeem Gichki, Tehsildar of Jiwani, was returning with a contingent of Levies Force from the Mojo area near the Iranian border where he had gone to inspect a disputed piece of land along the coastal highway, whose ownership was claimed by two local men.
Bomb defused
Earlier in the day, a terror bid was foiled when an eight kilogramme bomb at Bakhtiarabad area of Lehri District was defused.
The railway track, however, was damaged as the security personnel disabled the bomb.
Security was tightened in Quetta and other parts of Balochistan due to 10th death anniversary of famous Baloch leader Nawab Akbar Bugti.