Fawad receives warm welcome outside Adiala Jail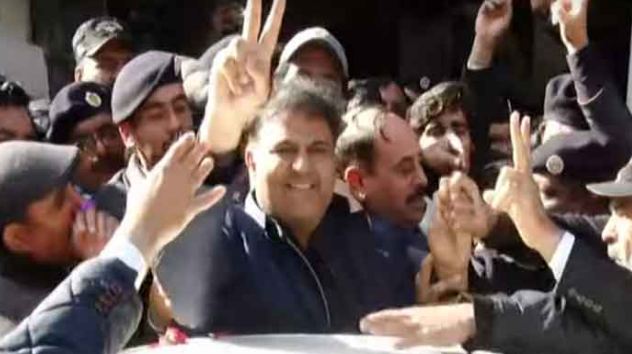 Staff Report
ISLAMABAD, Former information minister Fawad Chaudhry has
been released from Adiala Jail after a court granted him bail in a
sedition case.
Talking to the media outside the jail, the Pakistan Tehreek-e-Insaf
(PTI) leader thanked the party leadership and his colleagues especially
Farrukh Habib, for supporting him 'in hard times'.
He also expressed gratitude to the leaders of other parties – including
Shahid Khaqan Abbasi and Mustafa Nawaz Khokhar and Hanif Abbasi – the
lawyers.
"Party leadership stood with him. Special thanks to Farrukh Habib who
fought for me. All the bars backed me. I thank Shahid Khaqan Abbasi,
Mustafa Nawaz Khokhar," he said.
The PTI leader also thanked his critics at this crucial time. He
repeated the demand for an election, saying:"The country is currently in
crisis. Hold fresh polls and transfer the powers to the elected people."
Fawad was released from Adiala Jail after receiving bail.
A large number of PTI workers gathered outside the jail to accord him a
warm welcome. They distributed sweets and raised slogans in favour of
Imran Khan.