Farhan Zama, Mehbood in final of Serena Hotels-CAS squash tourney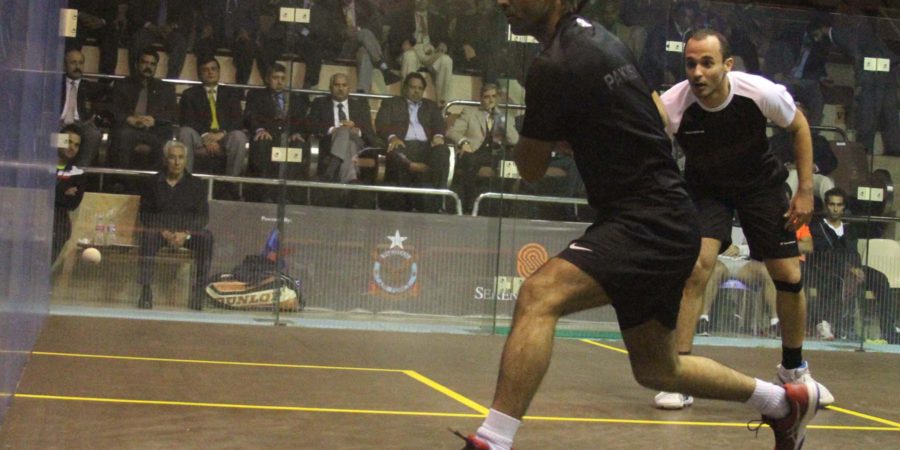 ISLAMABAD, NOV 20 (DNA) –    Farhan Zaman and Farhan Mehboob reached the final of Serena Hotels – Chief of Air Staff International Squash Championship being played at Mushaf Squash Complex, Islamabad.
The 1st Semi Final was a thrilling match between Farhan Zaman and Leo Au. Farhan Zaman dominated in the first game and easily won it with a game score of 11/6. Leo Au came back in the next two games and won these with the game scores 11/3 and 11/7. Farhan Zaman strongly came back in 4th & 5th games in which he outclassed his opponent with the game scores 11/9 & 11/7. The match lasted for 61 minutes. Air Marshal Mujahid Anwar Khan, Deputy Chief of Air Staff (Support), was the chief guest of the match. Squash legends Jahangir Khan and Qamar Zaman also witnessed the match.
The 2nd Semi Final was played between Farhan Mehboob and Mohamed Reda. Farhan Mehboob dominated from the very first game and managed to win the 1st & 2nd games with the game score 11/9 & 11/7. Reda came back in the 3rd game and won the game with the score 11/9. In the fourth game Farhan Mehboob dominated his opponent from the start and clinched the match with the score 11/7. The match lasted for 46 minutes. Air Marshal Asad Lodhi, Vice Chief of Air Staff, Pakistan Air Force was the Chief Guest at the occasion.=DNA
==============