Faisalabad Serena Hotel, a Class of Punjab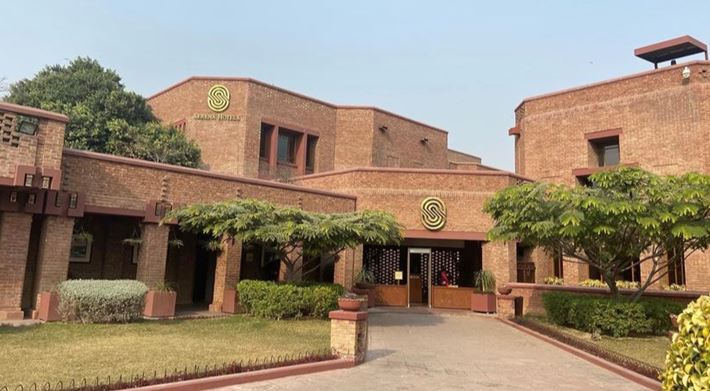 Munaza Kazmi
Punjab, the cultural and traditional rich land of Pakistan, mostly famous of lofty cuisine, flamboyant bazars, green pastures and the Punjabis, known around the world for their tasty food, happy faces, colorful attires, stunning art and handicraft, the culture and the history full of romantic tales.
Faisalabad previously known as Lyallpur; that you must have read this in school days, while memorizing dates and event of pre and post colonel era, is the center of Punjab or the interior Punjab. The city is famous for its markets, from where you can have quality product in lesser prices, beside it is Pakistan's largest textile producer, hence a glittering place for all the ladies. For a traveler, beside shopping, the main attraction is Lyallpur Museum, Clock Tower, Jinnah Garden, Gumti Fountain, Wild life Park, and nearby NankanaShib.
Am a travel writer and always ready to experience something new to writeup a new story. This time it was a Traditional Punjabi Style Hotel, Faisalabad Serena Hotel.
A friend of mine recommended and portrayed a lavishly artistic photo of it, that is no doubt found to be true.
Faisalabad Serena Hotel located in the prime location of Faisalabad, in close proximity from bus stand and airport, nearby the Central Business District and famous Clock Tower. Stylish brick colored building stretching on a massive area of land, with extended front and back lawns, filled with numerous blossoms and ever flowing fountains, marvelous handpainted ceilings, Punjabi styleelegant furniture, colorful corridors with smiling faces always ready to assist you and on top the traditional and of local dishes, that makes you come back again.
The hotel reflects class of hospitality and luxury,distinguished for quality accommodation and guest services, this luxury hotel meets all the demands of today's discerning traveler while reflecting the true essence of Punjabi heritage.
Let's visit with me to have a grander view of Faisalabad Serena Hotel.
In the busy city of Faisalabad, where alluring lights and active shopping never stop. Faisalabad Serena Hotel is an escape to the serenity. On the Club Road reflecting the remains of British Raj, you would be finding Serena, a huge,carefully guarded, walled structureresembling of a guarded fort. After security clearance, you would be heading towards the parking, where along with cars you would be encircled with huge old trees, distant sound of a fountains, cheering of birds leaving their nests and an occasional play of the squirrels.
Thencomes a sophisticated brick colored building, giving an air of Punjabi Haveli standing overlooking the immense lawns. And you would find yourself entering into the glittering mansion from a giant door operated by a smiling turban man; the long kaftan and turban emits a true picture of Punjab.
By stepping inside the classy and luxurious interiors of the hotel you would be treated to the polished and nurturing ambience reminiscent of the old mansions of Faisalabad. Chinioti sofas with vibrant floral tapestry made by local artisans are placed alongside traditional ceramic lamps representing local culture in its full spectrum. A huge, brass lamp hangs in the lobby, offsetting the brick walls as a magnificent centerpiece. The courtyards and lush gardens, are another treat for guests, providing a haven of peace and serenity in the bustling city.
On the right-hand side form the main entry is the reception from where you can take the keys of your room. The hotel has two floors the lower or ground one is standard floor and the 1st is executive floor, the facilities and rates are different for both.Hence, you can tailor your stay as per your needs. The hotel has total 140 beautifully appointed guest rooms, where Punjab's rich culture and Faisalabad's textile heritage is carefully woven into the design of each room. Lavish textures, hand-woven carpets and ornate woodwork are complemented by modern amenities designed to provide you the utmost in elegance, comfort and convenience, including a handsome living and dining area, writing table, powder room, marble bathroomsstocked with the hotel's own brand of complimentary toiletries, complimentary high-speed internet, minibars, 24-hour room service and flat screen TVs, while large soundproofed windows keep out any noise and allow plenty of sun light in. Also, most of rooms afford inspiring views of the hotel's gardens and courtyards.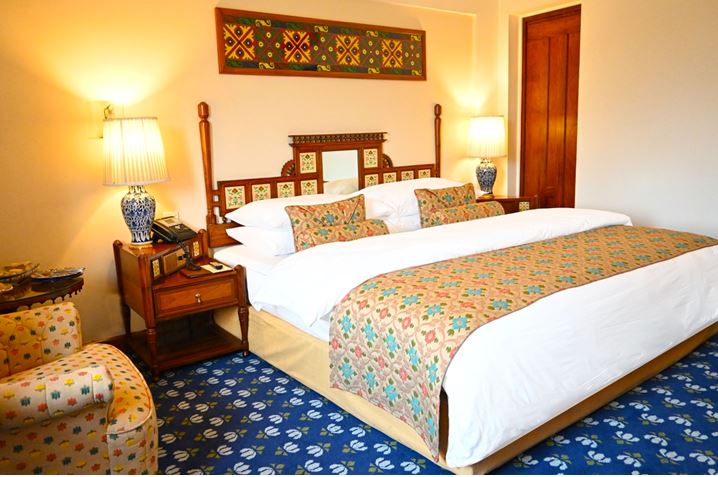 Twin, queen-sized or king-sized beds are dressed in soft snow-white linens,embroidered cushions, offset by an embellished dark woodenintricately carvedhead frame.Moreover, bedroom's traditional color palette is complemented by a luxurious wool carpet and rich fabrics, giving a feel of true home away from home.
At Faisalabad Serena Hotel you can reside gracefully in Punjabi style,among a haven of peaceful gardens that provide a welcoming calm oasis. The hotel also offers exclusive Executive and Presidential suites, each reflecting warmth, tradition and culture.
Food, the lifeline of Punjabis, ranging from sarso ka saag, makaeki roti to jaleebi, and the good news isin the Hotel you can enjoy all the appetizing and mouthwatering food. In the restaurants at lunch and dinner, you can enjoy an opulent assortment of dishes, ranging from typical Pakistani cuisine to international delicacies from China, Thailand, Europe and beyond.
Since Faisalabad Serena Hotel is home to some of the best restaurants and cafes in the city, whether you can seek à la carte dining under the stars or a casual family meal, business lunch or a large celebration, the restaurants and bars at the Hotel can make your every meal time memorable. Combining the essence of Pakistani cooking with cuisines from other cultures around the world, the hotel offersyou to traverse the culinary globe via the hotel's collection of high-quality restaurants and cafes.
LYALLPUR COFFEE SHOP
For the in-house guests Breakfast is complementary and is served in a buffet style at the Lyallpur Coffee Shop. Steps from the hotel's main lobby on the ground floor, the Lyallpur Restaurant caters for breakfast, lunch, high tea and dinner buffets. It is perfect for a long lunch with family and friends, a sophisticated evening meal or business meetings. Where you would be treated to a tempting array of specialty dishes, ranging from traditional Pakistani flavors using the best local produce to popular continental cuisine.
RAKAPOSHI
Next to the hotel lobby, its Rakaposhi café, from where you can choose from a tantalizing array of freshly baked breads, homemade cakes and pastries, light snacks and beverages including freshly squeezed juices, flavored teas, specialty coffees and refreshing "mocktails". The café and terrace are open throughout the day and evening for informal business meetings, family time or a relaxed catch up with friends, hence you can enjoy it on any time of your choice.
RAKAPOSHI COURTYARD
It is just outside Rakaposhi, that offers the sizzling flavors of wood-fired brick oven pizzas, authentic Arabic wraps and pasta dishes.
BASANT COURT
The Basant Court prides itself on offering the freshest local produce and seasonal delicacies straight from the grill. Particularly popular amongst the locals, the mouth-watering barbecue is served accompanied by live traditional music, further adding to the experience.
POOL BAR
The Pool Bar is a delightful place, where you can relax while enjoying a scenic view and light poolside snacks, salads, refreshing juices and specialty "mocktails".
EXECUTIVE LOUNGE
The Executive Lounge is a welcoming space, which you would find in the main lobby, where you cansocialize over refreshments including coffee, tea, soft drinks and delicious homemade snacks.
XUELIAN
The Xuelian Restaurant, however its under construction now a days, is elegantly located on the lobby level of the hotel, celebrates the eclectic mix of flavors from China, Japan and Thailand. Here you can choose from a sumptuous buffet or from a wonderful selection of a la carte favorites at both lunch and dinner.
ROOM SERVICE
Feeling lazy or tired, you can dine in the comfort of your room or suite at any time of day or night with our 24-hour in-room dining.
EVENT CATERING
At Serena Faisalabad Hotel you can arrange receptions, dinners and other large-scale events, from 20 to 3,000 guests. However, if you are here for only check-ins I would recommend you request someone to get there, since the ceilings of the halls are marvelous, specially the Nakash Hall, and that's all is hand painted which makes it quite a treasure.
Beside this the hotel have some beautiful gardens, loaded with flowers and huge old tress, where you can capture some memorable photos, or an escape from everyday life by sitting beside the fountains. In the meanwhile, you would also come across some kitchen garden, where I had seen for the first time a black pepper plant.
Moreover, the hotel offers health club but unfortunately spa facility is not available, which I believe is a part of luxury hotel. However, stylishly appointed rooms stunning gardens and courtyards, unrivalled security and a wide choice ofrestaurantsoffering local and international delicacies, the friendly and caring staff make the Faisalabad Serena Hotel one of the city's premier hotels for business and leisure that reflects the true class of Punjab.