EU leaders agree to toughen border control and return policy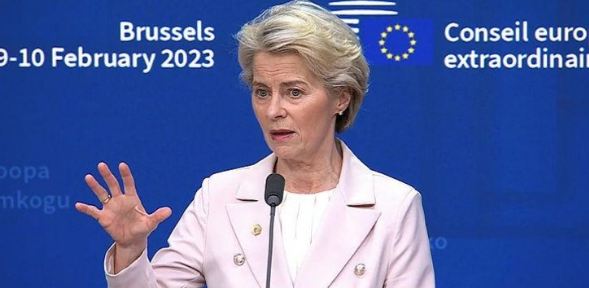 At a summit which ended early Friday morning, EU leaders resolved to reinforce the bloc's external borders and focus more on preventing irregular migration.
"We will act to strengthen our external borders and prevent irregular migration," Ursula von der Leyen, European Commission president, told a news conference closing the leaders' meeting.
She explained that the EU will set up "pilot projects" to reinforce border protection, both by material equipment and personnel to handle asylum applications and returns.
In one major change, the strengthened border control will be funded by the bloc's common budget despite von der Leyen's previous stance ruling out financing border fences with EU money.
In the conclusions of the summit, EU leaders specifically asked the EU executive body to "immediately mobilize substantial EU funds and means to support Member States in reinforcing border protection capabilities and infrastructure, means of surveillance, including aerial surveillance, and equipment."
As von der Leyen explained, the EU "will provide an integrated package of mobile and stationary infrastructure from cars to cameras, from watchtowers to electronic surveillance" under the new pilot projects.
EU leaders also agreed to speed up the safe returns of those migrants whose asylum applications were rejected.
With the help of relevant EU agencies, the new pilot projects will also "focus on border procedures in order to showcase best practices on registration, fast and fair asylum procedures, and how to deal with returns," von der Leyen added.
For this purpose, the countries will from now on mutually recognize return decisions to avoid double applications, von der Leyen asserted.
In addition, the leaders called on the bloc's asylum agency to work on the concept of "safe third countries and safe countries of origin" from where the bloc would not accept asylum applications.
With the move, the bloc seeks to set up a common list of safe countries that all EU member states, who are currently free to decide if they accept asylum claims or not, would use.
EU leaders also discussed economic affairs, as well as the bloc's support for Ukraine, including military aid, more sanctions against Russia, and the further use of frozen Russian assets.
Ukrainian President Volodymyr Zelensky also participated in person at the meeting for the first time and held bilateral talks with EU leaders.