EU ambassador hosts reception to celebrate founding of EU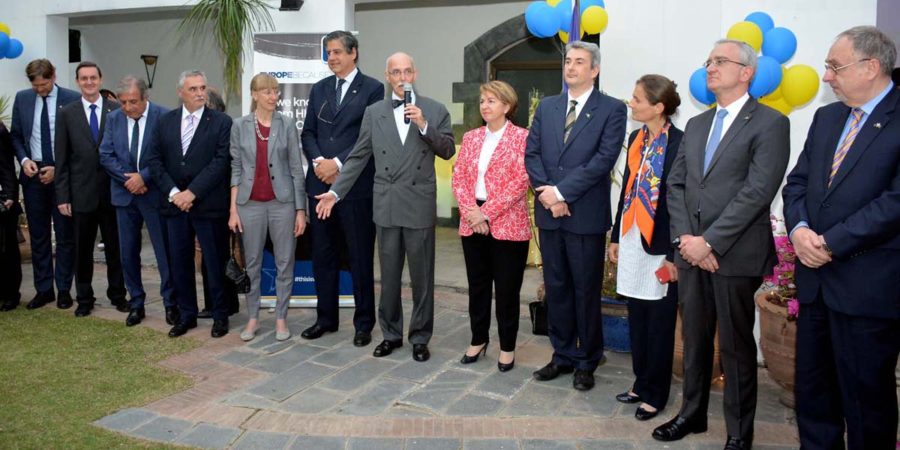 ISLAMABAD, MAR 29 (DNA) – Ambassador of European Union to Pakistan Jean Francois Cautain has said despite various challenges European Union is marching ahead steadily adding EU for sure would see many more successes in the days to come.
The European Union ambassador made these remarks while speaking on the occasion of 60th anniversary of the Treaty of Rome that established the European Economic Community, which is knows these days as European Union.
Ambassador Cautain further said, the European Union's diplomatic network runs wide and deep to all corners of the globe, making a difference when I comes to human rights, democracy support, migration, development, responding to crises, providing security, contributing to defence and building the resilience and capacities of societies.
"Since the Rome Treaties in 1957 the European Union has enjoyed six decades of unparalleled peace, prosperity and security. European countries leaving peacefully side-by-side has also contributed to a more peaceful world".
He added, in 1951 six countries founded the Euroepan Coal  and Steel Community, and later in 1957 the European Economic Community: Beligium, Germany, France, Italy, Luxembourg and the Netherlands.
"On the occasion of this 60th Anniversary, I want to reaffirm that the European Union remains the dynamic project that our founding fathers had in mind, to reaffirm our commitment to the values and objectives on which it is built but also to take pragmatic and ambitious steps forward".
A further 22 countries have since joined the EU including a historic expansion in 2004 marking the re-unification of Europe after decades of division, followed by further enlargements in 2007 and 2013, he added.
Ambassador Cautain who has also turned 60 years said it was indeed an important event for him that this historic event had coincided with his birthday.=DNA
===================