Ethiopia's Entry into BRICS to Boost South-South Cooperation: Envoy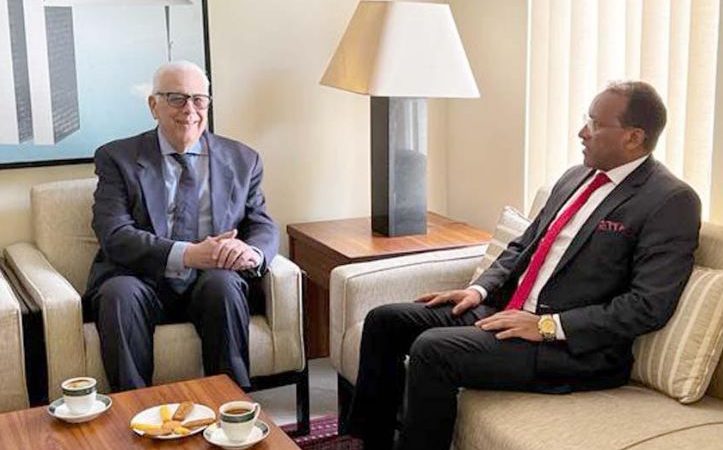 DNA
ISLAMABAD: Jemal Beker Abdula, Ambassador Extraordinary and Plenipotentiary of the Federal Democratic Republic of Ethiopia (FDRE) to Islamic Republic of Pakistan on Tuesday said entry of his country into BRICS would give a major boost to south-south cooperation and promote sustainable socio-economic development across the globe.
H.E. Ambassador Jemal Beker emphasized on Ethiopia's regional and international influence, immense natural resources and geostrategic importance, highlighting its peace and security as conflict resolution capabilities and economic potential amid the rapidly changing global landscape during a meeting with Brazilian Ambassador to Pakistan H.E. Olyntho Vieira.
He said Ethiopia's entry into BRICS would not only expand the group's influence but also bolster its collective strength and institutional capabilities.
The ambassador stressed on Ethiopia's modernized economy, citing reforms initiated by H.E. Dr. Abiy Ahmed, Prime Minister of FDRE, in agriculture, agro-processing, mining, manufacturing, ICT, and tourism sectors.
He said collaboration within BRICS would promote economic integration, technology transfer, knowledge sharing, environmental sustainability, access to quality education and health facilities and infrastructural development of the group members.
Moreover, H.E. Ambassador Jemal Beker underscored Ethiopia's commitment to global peace and sustainable development, stressing on its strong belief in collaboration over competition.
He pointed out Ethiopia's historical role as one of the founders of the League of Nations and the United Nations, emphasizing the nation's dedication and commitment to ensuring justice, peace, and security on the world stage.
Brazilian Ambassador H.E. Olyntho Vieira lauded Ethiopia's constructive role in the rapidly changing global dynamics and emphasized the significance of south-south cooperation in promoting equal socio-economic development worldwide.
He said the world was drifting away from the geo-politics focusing on geo-economics to promote international economic integration.