Erdoğan's re-election is a manifestation of the Turkish people's confidence in his personality: Bakhtawari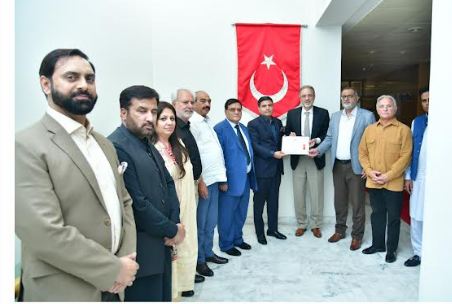 ISLAMABAD, MAY 31: President Islamabad Chamber of Commerce and Industry Ahsan Zafar Bakhtawari has said that the re-election of President Recep Tayyip Erdoğan is a manifestation of the Turkish people's confidence in his personality and policies. President Erdogan supported Pakistan like a brother in every difficult time.Turkey is once again seen as a world power because of his sustainable policies. The people of Pakistan love him immensely. Pakistani nation will not forget his services in every difficult time
He expressed these views yesterday while talking to the Turkish Ambassador Dr. Mehmet Paçaci on the occasion of a visit to the Turkish Embassy along with a delegation of the Islamabad Chamber of Commerce. On this occasion, the delegation congratulated the Ambassador on the re-election of Recep Tayyip Erdogan as President by ICCI and the Business Community.
The President of Islamabad Chamber said that these words of the President of Turkey are closest to the truth that Pakistan and Turkey are two countries and one nation. What happens in Ankara, we feel in Islamabad. The people of both countries love each other immensely. This is the reason that the joy of the success of the newly elected President Recep Tayyip Erdogan is being celebrated equally in both countries. Turkey has supported Pakistan in every hour of difficulty. I hope that under President Recep Tayyip Erdoğan, Turkey will become a strong economic power and a stronghold of the Islamic world. Pakistanis as a nation will never forget their services, be it the 2005 earthquake or other natural disasters, the government and people of Turkey actively participated in relief activities on every occasion. Turkey's standing with Pakistan at every forum on the Kashmir issue is an indication that the relationship between Pakistan and Turkey is very deep and sustainable. In recent days, Turkey paid its right to friendship by boycotting the G20 conference held in Occupied Kashmir.
The Pakistani nation and government are always ready to help Turkey in every difficulty. Pakistan values brotherly relations with Turkey. After the establishment of Pakistan, Turkey was among the first countries to recognize Pakistan and even today Pakistan and Turkey stand side by side in difficult times. He further said that under the leadership of President Erdoğan, Turkey has made enormous progress in various fields. The present success is behind his endless services.
On this occasion, the Ambassador of Turkey thanked Islamabad Chamber of Commerce President Ahsan Zafar Bakhtawari and the delegation. He said that the relationship between Pakistan and Turkey is an example, I hope the relationship between the two will be stronger in the future. He said that the people of Turkey will never forget the way the Pakistani people and government supported Turkey in the recent earthquake in Turkey. On this occasion, he thanked the President of Islamabad Chamber for giving valuable donations to the victims of the earthquake and presented certificates of appreciation on behalf of the Government of Turkey.