EMILIAN ION" Romania, Pakistan relations given new dimensions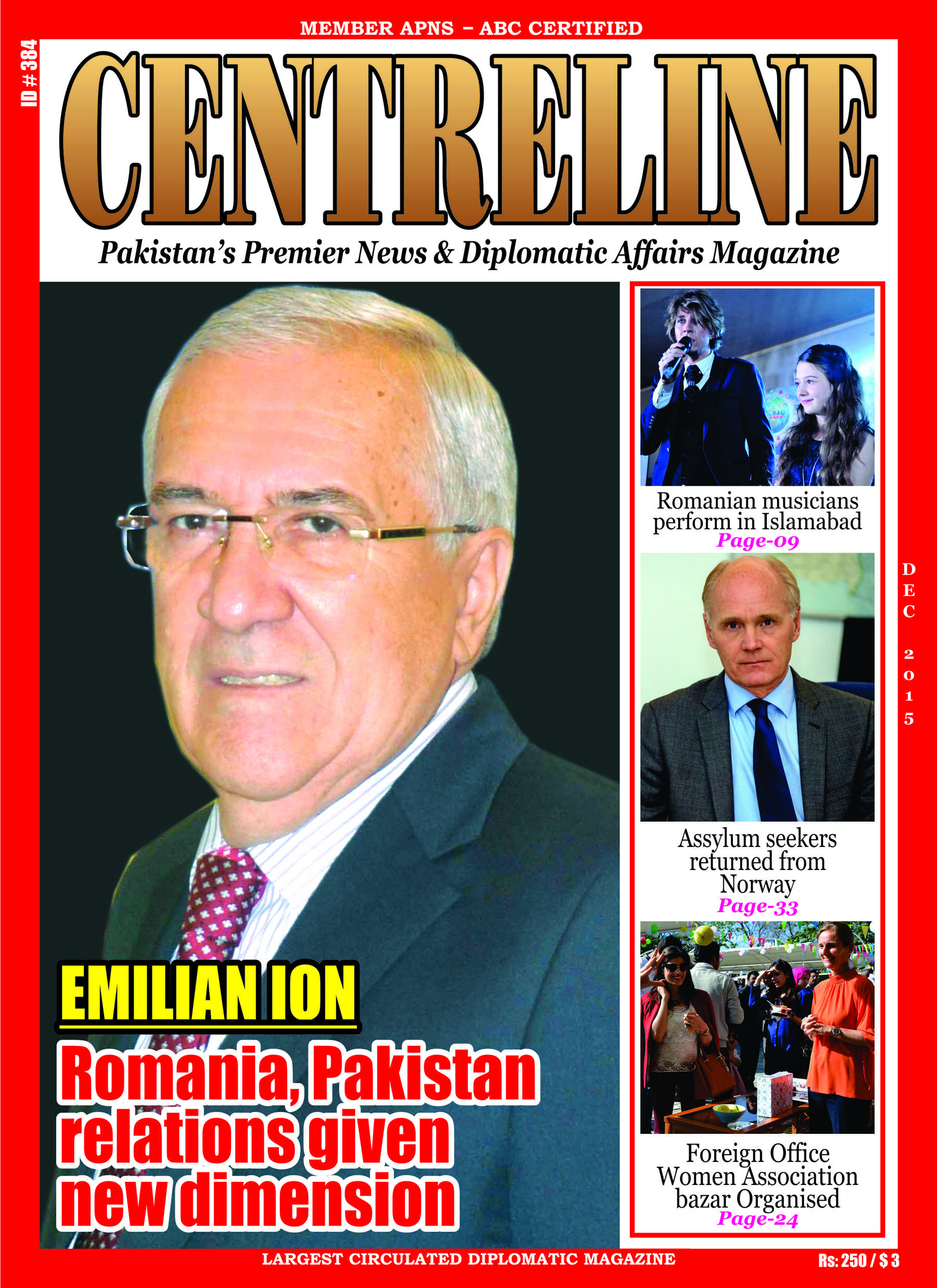 Dean of European missions, Ambassador of Romania talks to Centreline and DNA
Ansar Mahmood Bhatti
Ambassador of Romania Emilian ION gave an exclusive interview to Centreline and DNA on the occasion of Romanian national day. Ambassador Emilian is also the Dean of European missions. Ambassador ION is now the senior most ambassador among the European diplomatic corps and third senior most ambassador in the diplomatic corps. He has contributed greatly towards the strengthening of relations between Pakistan and Romania. During his tenure Pakistan and Romania have explored a number of avenues while a lot more are in the pipeline. Here are excerpts from his interview.
BILATERAL RELATIONS
Bilateral relations between Romania and Pakistan are from cordial to excellent. Some high level visits on both sides have in fact given impetus to these relations. Let me share with you the information that the Speaker National Assembly Sardar Ayaz Sadiq is scheduled to visit Romanian in the coming days. We are working on this visit and I hope this visit will help further cement between the two countries. I met the Speaker few days ago and besides congratulating him on his re-election as the Speaker, I discussed with him about his possible visit to Romania. Likewise, the Romanian foreign minister visit to Pakistan is also in the pipeline.
50 years ago, Romania and Pakistan officially established diplomatic relations, at Embassy level. It was the start of a partnership which has proven over time that geographical distance and geopolitical differences could not affect what today is a traditional and friendly relationship between the two countries.
I would like to point out just a few historical facts which underline the evolution of the bilateral ties. In the 70's and 80's, Pakistan imported Romanian know-how and technology. It is worth mentioning the contribution of Romanian engineers and specialists to the building of the National Oil Refinery in Karachi, and also to an important part of the Pakistani cement industry with the help with Romanian technology (Cement Plants in Kohat, Lasbella, as well as the Saadi – I, Saadi – II and Pakland projects);
As you know, Romania is very important EU member state and we wholeheartedly supported Pakistan's bid for GSP plus. We assure Pakistan that we would continue to extending similar support of Islmabad even in the coming days.
We also support all those efforts that are being made for the regional peace because regional peace is a sin qua non for enhanced trade and economic activity. Even with India we wish that both countries settle their issues amicably.
EFFORTS TO PROMOTE BILATERAL RELATIONS
As Ambassador of Romania to Pakistan, I used my skill and expertise in order to promote the bilateral relations in all fields, with an emphasis on economic and cultural ties. In this regard, I can mention the following significant points for the evolution, in the last years, of the Pakistan – Romania relations:
The completion of the bilateral legal framework, through the signing of inter-governmental Agreements on Economic cooperation (september 2011) and Defence Cooperation (february 2013). The launch, in February 2011, with the assistance of a group of young businessmen from Karachi, of Pakistan – Romania Business Council (PRBC), which is an independent company, created in full compliance with the Pakistani law, to act like a bridge between the business communities of the two countries.
I congratulate PRBC for proving to be a very active platform, by organizing, in the first three years, the visits of two Economic Delegations to Romania, and also by opening a sister company in Bucharest. Punjab, Romania business forum in Lahore is also on the anvil.
The reopening, in 2013, of the Honorary Consulates of Romania in Karachi and Lahore, as well as the opening of two new Honorary Consulates in Faisalabad (also in 2013, being the first of its kind in one of the most important Textile Centers of Pakistan) and Peshawar (in the summer of 2014). It is also my wish to open a consultae in Quetta also. I am already in tocuh witht he concerned quarters in this regard and hopefully I will share with you some good news in this regard.
This is the perfect opportunity to address my appreciation to the former Honorary Consuls General in Karachi and Lahore, and to the actual Honorary Consuls General, for their contribution to the development of the bilateral relations between Romania and Pakistan.
Culture has been promoted through various means: especially music – Sufi Qawwali Groups have performed at a number of events organized by our Embassy, as well as by the Embassy of Pakistan in Romania. Also, it is worth mentioning that there is an ongoing cooperation in the field of education: currently 14 Romanian teachers are teaching mathematics in Abdus Salam School of Mathematics in Lahore.
As you know, a cultural team was here in Pakistan. This music group comprised three musicians plus my granddaughter Cristiana Ioana Ion. She was also part of the group and took part in many functions held under the auspices of the Romanian embassy. I think this was a great moment in terms of cultural relations between the two countries and I do hope such cultural contacts would further grow in the coming days.
EDUCATION LINKS
There is a big interest in developing cooperation in this sector, shown by some Romanian and Pakistani universities. The Rector of COMSATS Institute of Information and Technology has recently visited Romania, and over 200 Pakistani students are currently studying in Romania.
An important role in promoting cultural ties belongs to Pakistan Romania Friendship Association, whose activity I have managed to revive. Through organizing social and cultural activities, PRFA was and will continue to be a good platform to bring Romania and Pakistan closer together and the Association will be the spearhead of cultural activities in the future.
A separate point that shows the importance the two countries attach to the cultural cooperation is the Monument dedicated to the National Poets of Pakistan, Allama Iqbal, and of Romania, Mihai Eminescu, which was constructed in 2004, in Islamabad, near Kulsoom International Hospital.
POLITICAL AND ECONOMIC COOPERATION
Pakistan is a very important partner in the region for my country, Romania, the 7th largest member of the European Union.
I am very convinced that the near round of political consultations at high level between our Ministries of Foreign Affairs will assess the evolution and generate a Road Map, with concrete actions, that will aim towards further consolidating and promoting the bilateral relations between our countries, in the political, economic, cultural and all other fields of common interest.
In my opinion, the current volume of trade does not reflect the real economic potential of our countries and both Embassies in Islamabad and Bucharest have to do more in this regard.
Besides, as you may know in recent days various business delegations visited Romania including Sahiwal, Lahore, Chakwal chambers, who went there and explored ways of mutual cooperation. I sincerely believe by enhancing people to people contacts, we can surely improve bilateral relations in all fields. Romania is not very far off from Pakistan which is a good sign therefore we should make maximum use of this plus point.
Even in defence sector, both countries have a close cooperation. Romania delegation was here to take part in IDEAS defence exhibition.
Your impressions about Pakistan?
Pakistan indeed is a great country gifted with all sorts of resources. This country has the potential to become a regional power. I am saying this because I have seen in Pakistani people a desire and will to take their country to pinnacles of development. People here are very friendly, loving and caring. I wish that Pakistan makes progress in all fields. I am confident that bilateral relations will touch new heights with induction of new Romanian president.