Combined efforts at SAARC platform imperative to curb corruption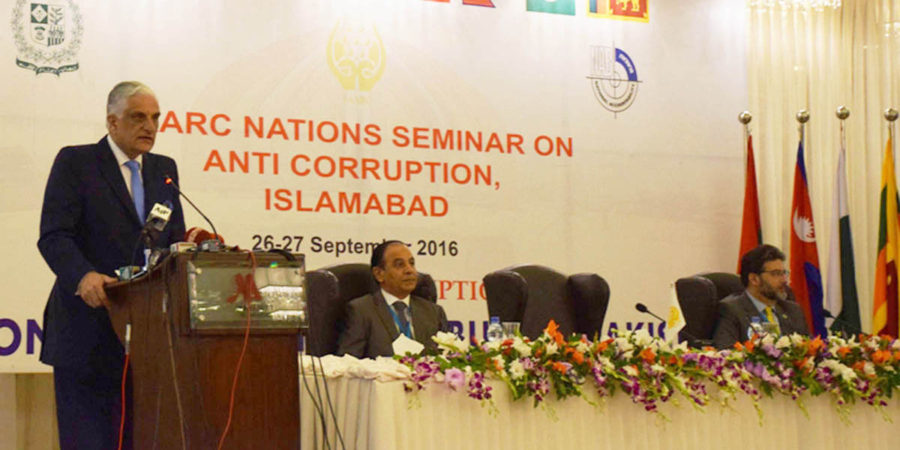 ISLAMABAD, 26 SEP, (DNA) – Federal Minister for Law and justice, Zahid Hamid has said that Corruption can no longer be considered a country's internal problem; therefore, coordinated efforts against this menace at regional level from the SAARC platform are imperative.
The minister reiterated that issues and concerns of these nations are common therefore Countries of South Asia need to work jointly by sharing best practices, expertise and experiences relating to the global war against corruption.
Federal Minister for Law and Justice Zahid Hamid said this while delivering a lecture to the participants of SAARC Nations Seminar held here on Monday under the auspices of National Accountability Bureau (NAB).
The Minister said that the subject of this Seminar is of great importance to all our countries. He elaborated that countries of the region, bound by contiguous geography, share strong bonding of culture, history and heritage.
So regional initiatives, including the exchange of information, training of personnel engaged in anti-corruption activities and public awareness would undoubtedly provide instrumental support to ongoing national efforts to curb this menace.
He further said that the Government of Pakistan and NAB, have initiated the process for regional cooperation in anti-corruption matters. The Minister determined to implement Government's policy of zero tolerance for this menace; all our national and provincial anti-corruption institutions are fully engaged to root out it from society.
Mr. zahid concluded that Legal mechanisms are in place to take punitive action against those found to be involved in heinous offence of corruption. =DNA
==========