Effective mechanism needs to be setup to tackle cases of early marriages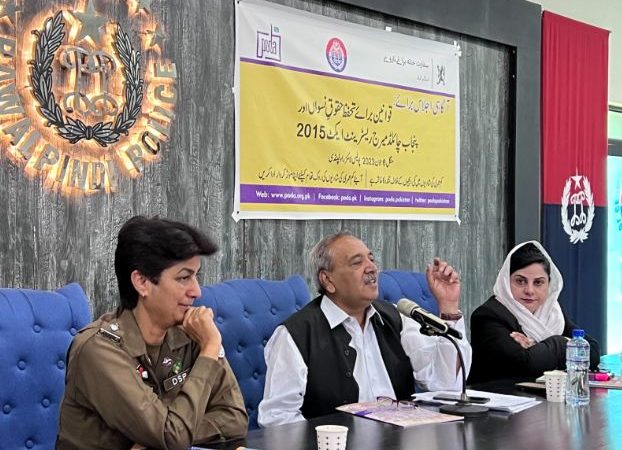 DNA
Rawalpindi, JUN 6: The participants of an awareness-raising session organized by PODA recommended that instead of leaving gaps which facilitate cases of early marriages, an effective mechanism needs to be setup between local courts and police stations to tackle cases of early marriages saving the under-age girls according to the Child Marriage Restraint Act 2015. They appreciated PODA's stance to raise minimum age of marriage of girls from 16 to 18 years in Punjab to safeguard the vulnerable girls.
In the perspective of its project "Reducing Early Marriages to Enhance Gender Equality", PODA – Pakistan held an awareness raising session in Police Lines, Rawalpindi in which a large number of officials representing 30 police station participated. The session was aimed to address the importance of upholding women's rights and preventing child marriages in the country.
In a message, Ms. Sameena Nazir, Chief Executive Officer-PODA said reducing early marriages is a key to eliminate violence against vulnerable young girls who are not able to raise their voice on the policy-making platforms. "Besides, it is the duty of every individual to work for the uplift of the rights of the young girls who are deprived of opportunities and resources to overcome the obstacles which hinder their path to development and progress," she said.
The speakers urged the provincial legislators to make the minimum age of marriage conditional with the National Identity Card to eliminate harmful practices to ensure protection of girls and women while enabling them to fully enjoy their fundamental rights to flourish and prosper as Pakistani citizens.
DSP (Admin) Mohtarma Shahida Yasmeen, in her address, highlighted the importance of collaboration between the legal fraternity and law enforcement agencies to effectively counter cases of underage marriages. She stressed the need for the legal community to provide necessary information to law enforcement agencies and work hand in hand to ensure swift action against such cases.
Advocate Khawaja Zahid and Advocate Hifza Bukhari, Finance Secretary of the Supreme Court Bar Association highlighted the significance of the Child Marriage Restraint Act 2015 in safeguarding the rights of children and protecting them from the harmful effects of early marriages. They emphasized that the Act serves as a crucial legal tool to combat child marriages and ensure the well-being of young girls. She urged the legislators to make minimum age of marriage conditional with the National Identity Card.
PODA's Representative, Nabeela Aslam said that PODA advocates for recognition of women's human rights as a cornerstone in Pakistani society and works for improving the laws and policies to enable women and girls to exercise their full civil, political and economic and cultural rights as citizen of Pakistan. Highlighting the project "Reducing Early Marriages to Enhance Gender Equality," she emphasized on the point that the key to empowerment of girls and women is education. Ensuring this very constitutional right of girls we can envision a society where women and girls who make half of the population of the country are able to participate in every sphere of life substantively She highlighted that PODA with the support of the Norwegian Embassy, Islamabad working to make the communities aware of the problems connected with early marriages holistically to introduce a remedy in the form of a legal amendment to rationalize minimum age of marriage with National Identity Card to avoid systematic lacunas.