Edhi Foundation fears drop in donations after propaganda campaigns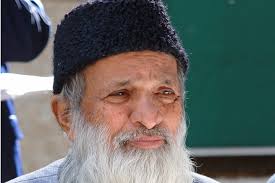 KARACHI: Faisal Edhi, son of late philanthropist Abdul Sattar Edhi, said on Monday that the Edhi Foundation fears a drop in donations as certain conservative elements are maligning his father and attempting to spread negative propaganda about him.
"There is a risk of lack of donations for the organization because there is an active campaign run against the Edhi Foundation every year," Faisal Edhi said. Since many people contribute to the foundation because of Edhi's personality and his work, rumors of his passing tended to spread during Ramazan.
"Certain elements spread negative propaganda and rumors in order to keep people from donating to the foundation," he said. When asked who spreads these rumors, Faisal believed "those who are backward, reactionary and hold extremist views" are responsible. "Mullahs and capitalists have always distressed Edhi," he said.
"Mullahs in their Friday sermons have on occasion called him an Ahmadi, sometimes a kaafir, sometimes an Agha Khani, and urged people not to give charity to the foundation," Faisal said, adding that he did not understand the motivation behind the 'propaganda', despite the organization bringing in fewer donations as compared to mosques and seminaries. "Now I can only pray and request others to forgive him and leave him be. He is dead now, so there is no point in issuing fatwas about him," he said.
Edhi passed away at the age of 88 in Karachi on Friday night last week. A state funeral was held for the philanthropist at the National Stadium in Karachi amid tight security, with President Mamnoon Hussain and all three chiefs of the armed forces in attendance alongside other top military and civilian leadership.
Police designated different entry points to the venue for public and VIPs and security personnel from the army, Rangers and police commandos were deployed around the stadium as well as on all routes leading to the venue. Faisal disagreed with criticism that the state had hijacked his father's funeral.
"People said they faced a lot of difficulties reaching [the funeral], and that they came anyway out of their love and support for Edhi. But the state has a responsibility and a way of doing things. Even if we disagree with that, even if it might be flawed, I believe what the state did was for the best." Faisal went on to elaborate on the ideological underpinnings of the organization ─ and his upbringing.
"Edhi was a man who held socialist ideals and brought me up with those principles too. We discussed it a lot. We'll take the foundation forward based on those principles, even if we have to run it on the footpaths." "May Allah grant me the courage and strength to run the Edhi Foundation along the right path, as well as my father ran it."