ECO Meet in Antalya Shares Pakistan's Vision for Promoting Regional Economic Cooperation. Kashmir also Raised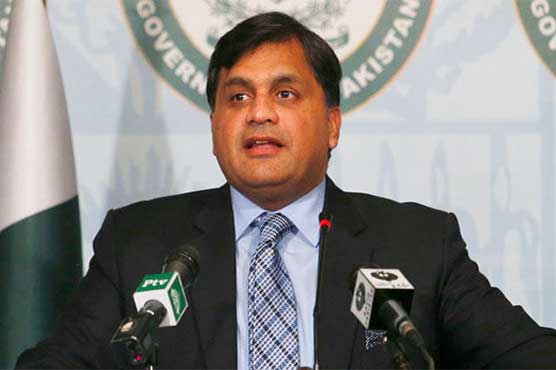 The Council of Ministers (COM) of the Economic Cooperation Organization (ECO) held its 24th meeting in Antalya on 09 November 2019.
Ms. Andleeb Abbas, Parliamentary Secretary for Foreign Affairs led the Pakistan delegation, which was attended by the Foreign Ministers/ Deputy Foreign Ministers and Representatives of the ECO Member States and Observers. Representatives of International Organizations also attended the COM as Special Guests. The Secretary General of ECO, Dr. Hadi Soleimanpour represented the ECO Secretariat.
In her statement to the Council of Ministers, the Parliamentary Secretary stressed on the need to make the organization an invaluable platform to promote connectivity, trade and economic cooperation among the member states. She emphasized that the ECO Trade Agreement and the Transit Transport Framework Agreement should be implemented to realize the full potential of the Organization. She urged the organization to do an analysis why with so many resources, it has not been able to achieve the results all its members want. To achieve results we have not gotten before, we need to do what we have not done before.
While drawing attention to India's outright brutality especially to women and children and blatant disrespect for human dignity in Indian Occupied Jammu and Kashmir (IoJ&K), the Parliamentary Secretary said that Kashmir issue is a serious threat to regional peace and security and a roadblock in the region reducing its economic potential. She encouraged them to stand up for justice and play their role for the peaceful resolution of this longstanding conflict according to UN resolutions. The HonorbaleMevlutCavusoglu, Foreign Minister of Turkey assured that Pakistan and Kashmir have Turkey's support, after the conclusion of Abbas's statement.
Highlighting Pakistan's initiative of opening Kartarpur corridor, the Parliamentary Secretary said that today is an historic day for Pakistan. Thousands of Sikh pilgrims from across the world are visiting Pakistan to celebrate 550th birth anniversary of Baba Guru Nanak. Pakistan was not supporting economic corridor, but trying to create corridor of peace also.
The Meeting deliberated the progress made since the last COM. Secretary General, Dr. Soleimanpour highlighted the overall profile of ECO and progress made in various fields, inter alia, trade and investment; transport & communications; agriculture and food security; energy and environment; and international relations. Vision 2025 made in Islamabad meeting was reviewed and the Parliamentary Secretary emphasized the need to implement the vision and urged member states to make ECO truly effective.
The Meeting also discussed the development of ECO since its expansion and exchanged views on the possible reforms needed for keeping pace with the evolving requirements of regional cooperation.
The participants renewed their commitment to promote regional economic integration among the ECO member states and resolved to play an active role for the realization of the Organization's aims and objectives