CPEC: Pakistan Navy ramps up security at Gwadar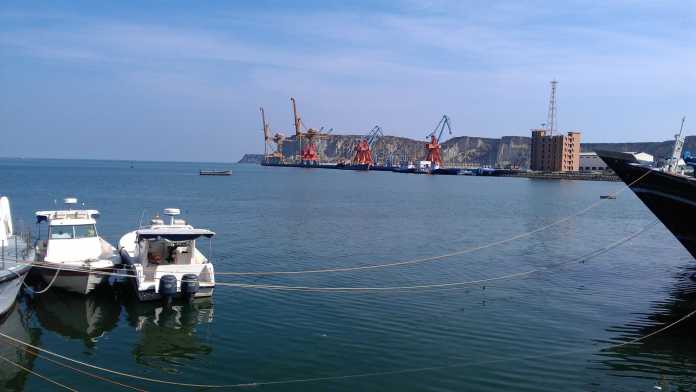 QUETTA: Pakistan Navy has increased all-round security and surveillance at Gwadar Port with the commencement of China-Pakistan Economic Corridor (CPEC) project.
"A special marine battalion has been raised for the security of Gwadar," stated a spokesperson of the Pakistan Navy while briefing media personnel during an extensive tour of the Gwadar site.
He added that Chinese engineers and delegates are currently visiting the port of Gwadar.
Gwadar is the port of origin and starting destination for CPEC, which will be linked to China's western region through a rail and road network.
"Gwadar is the backbone of CPEC," the spokesperson said, adding that the Pakistan Navy has been making strenuous efforts to ensure comprehensive security as well as the welfare of local people.
The CPEC is a 3,000-kilometer network of roads, railways and pipelines to transport oil and gas from Gwadar Port to Kashgar city, northwestern China's Xinjiang Uygur autonomous region.
Proposed by Chinese Premier Li Keqiang during his visit to Pakistan in May 2013, the CPEC will act as a bridge for the new Maritime Silk Route that envisages linking three billion people in Asia, Africa and Europe.
An official agreement on the corridor was signed between the two countries in May this year during President Xi Jinping's historic visit to Pakistan.
A flagship project of the Belt and Road initiative as well, the CPEC intends to revive the ancient Silk Road with a focus on infrastructure, and constitutes the strategic framework of bilateral cooperation.
The project links China's strategy to develop its western region with Pakistan's focus on boosting its economy, including the infrastructure construction of Gwadar Port, together with some energy cooperation and investment programs.
It also involves road and railway construction including an upgrade of the 1,300-km Karakoram Highway, the highest paved international road in the world which connects China and Pakistan across the Karakoram mountains.
The CPEC will reduce China's routes of oil and gas imports from Africa and the Middle East by thousands of kilometers, making Gwadar a potentially vital link in China's supply chain.