COP21: Rallies call for Paris climate change action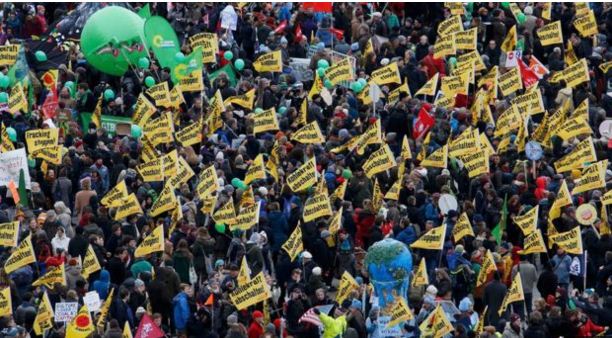 Demonstrations are taking place around the world to demand action to stop climate change, on the eve of the UN summit in Paris.
More than 2,000 events are happening, with tens of thousands beginning the day of protests in Sydney, Australia.
In the French capital, activists formed a "human chain" in a scaled-down rally following the recent attacks.
Activists want action to limit the rise in the average global temperature to 2C (3.6F) above pre-industrial levels.
In Paris, the human chain was formed by hundreds linking arms along the 3km (1.9 miles) route of a march that was called off after the 13 November attacks, in which 130 people died.
A gap in the chain was left in front of the Bataclan concert hall, where 89 people were killed.
Hundreds of pairs of shoes were left on Place de la Republique to remember those left frustrated in their plans to march.
Among them were a pair donated by Pope Francis, who has called for urgent action on climate change.
On Sunday afternoon, French police fired tear gas at a group of demonstrators close to the Place de la Republique.
Elsewhere in Europe, some 5,000 people turned out in Madrid, with close to double that in Berlin.
"We came from a village which is at zero metres above sea level and we don't want to see our entire possessions become part of the depreciation of climate change," one Berlin protester, Friedrich, told foreign media.
Thousands have gathered for a march in central London, where opposition leader Jeremy Corbyn addressed crowds.
In Sydney, many people carried placards reading "There is no Planet B" and "Solidarity on a global scale".
Mayor Clover Moore tweeted to say that, according to organisers, the true number of demonstrators was "at least 45,000", which would make it the biggest ever such march in Sydney, if confirmed.
In the city of Adelaide, South Australia, a rally of about 5,000 people highlighted the impact that climate change has on health, food security and development.
"Those who did the least to cause the problem are feeling the impacts first and hardest, like our sisters and brothers in the Pacific," said Oxfam campaigner Judee Adams.
Further demonstrations are to be held in Sao Paulo, Mexico City and New York, among other cities.
About 150 world leaders are due to attend the Paris talks including US President Barack Obama, China's Xi Jinping, India's Narendra Modi and Russia's Vladimir Putin.
French President Francois Hollande says he hopes a deal can be achieved, but that it will not be easy.
"Man is the worst enemy of man," he said. "We can see it with terrorism. But we can say the same when it comes to climate. Human beings are destroying nature, damaging the environment."
COP 21 – the 21st session of the Conference of the Parties – will see more than 190 nations gather in Paris to discuss a possible new global agreement on climate change, aimed at reducing greenhouse gas emissions to avoid the threat of dangerous warming due to human activities.