Companies Law 1984 being improved: Ishaq Dar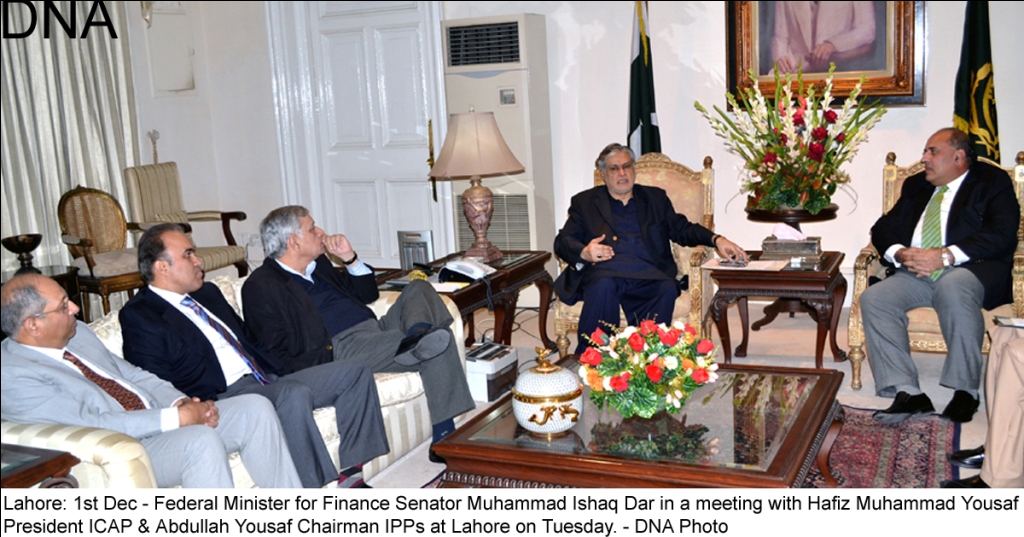 LAHORE, 01 DEC (DNA) – Federal Finance Minister Ishaq Dar said on Tuesday that Securities and Exchange Commission of Pakistan (SECP) had prepared a draft for making amendment in Companies Law 1984 to improve and bring it at par with modern age needs.
He stated this in a meeting with a four-member delegation of the ICAP (Institute of Chartered Accountants of Pakistan) led by its President Hafiz M. Yousaf here at 90 Shahra Quaid-i-Azam.
Members of the delegation were the IPPs Chairman Abdullah Yousaf, and ICAP council members Naeem Akhtar Sheikh and Rashid Ibrahim.
The Federal Finance Minister said that ICAP should also give its input in the companies law draft so as to make it more effective and beneficial for the stakeholders.
Ishaq Dar also informed the ICAP delegation about the major achievements of the present government on economic front. While, the delegates appreciated the PML-N government's performance, citing that they had been observing that Pakistan's economic indicators improving fast since the PML-N came into power.
The ICAP delegation briefed the Finance Minister about the two-day conference being organized by South Asian Federation of Accountants (SAFA) in Lahore from January 30, 2016. Professional, public representatives, officials and representatives of SAARC countries would actively participate in the event. They also invited the Federal Finance Minister to grace the conference by chairing its first day session.
During the meeting, the delegates also put forth some suggestions for ensuring maximum facilitation to the taxpayers as well as bringing improvements in the tax reform process. DNA