Commercial Consular of Turkey visits RCCI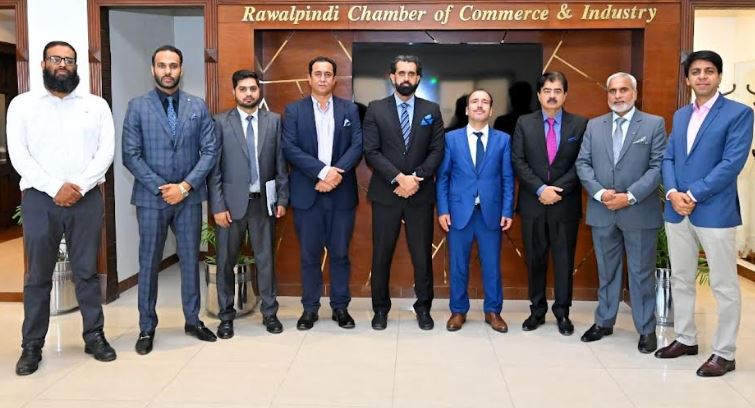 DNA
Rawalpindi: The Commercial Consular of Turkey Nurettin Demir visited the Rawalpindi Chamber of Commerce and industry (RCCI) here on Wednesday. He was accompanied by Commercial Secretary Abdul Baseer. President Nadeem Rauf, Senior Vice President Asim Mehmood Malik, Vice President Tallat Awan, Executive Members Saqib Rafiq, Chaudhry Akram, Mudassar Maqbool and Abu Bakar Siddique were also present on the occasion.
Commercial Consular Nurtin Damir while talking to the President of the Chamber Nadeem Rauf said that there are brotherly relations between Pakistan and Turkey, the volume of mutual trade is very low despite the potential. The preferential trade agreement (PTA) between Pakistan and Turkey was recently signed. He termed the PTA as a great success and expressed hope that the free trade agreement will be concluded soon. He said that Business-to-Business and People-to-People contacts have to be promoted between the two countries.
He said that such agreements determine the direction of the economy, 300 scholarships are also being given to Pakistani students every year.
Machinery, food, textiles, renewable energy such as solar, electric vehicles, defense equipment and IT are important sectors in which mutual trade can be promoted, he added.
President of the Chamber Nadeem Rauf briefed the Commercial Consular on the ongoing activities of the Chamber.
He said that the trade volume between the two countries is around 1.2 billion dollars which is very low.
The exchange of delegations at the level of the Chamber of Commerce is imperative to enhance bilateral trade relations, he said. PTA between Pakistan and Turkiye will strengthen mutual trade relations, he said.