Commerce Ministry gave go ahead, Kenya-Pakistan JTC Meeting soon: Envoy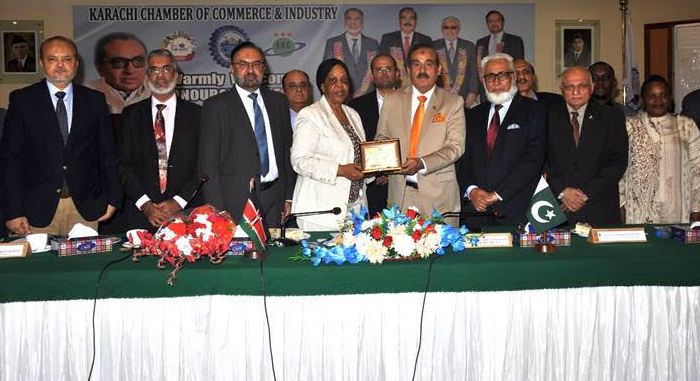 DNA
KARACHI: High Commissioner of Kenya, Nyambura Kamau has requested Karachi Chamber of Commerce & Industry (KCCI) to submit its input at the Ministry of Commerce about exportable products which can be supplied by Karachi to Kenya so that the same could also be negotiated in the next Joint Trade Committee (JTC) meeting to be held soon.
"We want to ensure that Karachi's business community is not left behind and they also benefit from expanded trade between the two countries", said Kenyan High Commissioner, "One of the issues to be negotiated by JTC pertains to exchanging list of tradeable goods between the two countries. Our proposal will be that Pakistan and Kenya should identify at least 20 products each having competitive advantage to expand trade which currently remains confined to exporting tea from Kenya and rice from Pakistan.
Exchanging views at a meeting during her visit to KCCI, Ms. Nyambura Kamau said, "Under the bilateral trade agreement between Kenya and Pakistan signed in 1983, a Joint Trade Committee (JTC) was formulated which was scheduled to meet in April 2022 but it couldn't and now, Pakistan's Ministry of Commerce has given go ahead for JTC Meeting and we are waiting for confirmation of date from the Kenyan delegation."
Honorary Consul General Kenya Muhammad Hanif Janoo, President KCCI Iftikhar Ahmed Sheikh, Senior Vice President Altaf A. Ghaffar, Vice President Tanveer Ahmed Barry, Former President Majyd Aziz and KCCI Managing Committee Members were also present on the occasion.
Kenyan High Commissioner, while identifying Karachi as the most important city in Pakistan, said that the city successfully represents huge percentage of commercial interest of Pakistan. "We recognize the importance of Karachi as this is the place from where most of the Kenyan goods including tea get access to Pakistani market and beyond. We are, hence, really interested in creating linkages with Karachi's business community through KCCI because of its strategic location to achieve the development agenda of both our countries."
She said that Kenya and Pakistan, who have a long history of relations dating back to 1964, enjoy cordial bilateral relations largely dominated by trade and investment. "Next year, we will be celebrating 60 years since Pakistan opened its mission in Nairobi and 40 years since Kenya opened its high commission in Islamabad."
She stressed the need to exchange investment opportunities, regular visits of business delegations, technology transfer & information sharing along with expansion of exportable products between Kenya and Pakistan.
She also mentioned that Kenyan High Commission has taken many initiatives to enhance trade, investment and economic cooperation in the light of strong relationship between the two countries. "We are committed to moving forward in the direction of achieving full potential of trade and investment by working closely with relevant stakeholders from the government and private sectors of both countries."
To strengthen business relations, she suggested to develop a mechanism for addressing barriers to trade and investment, organizing joint business networking meetings, seminars, exhibitions, trade fairs and other promotional activities.
Earlier, President KCCI Iftikhar Ahmed Sheikh, while welcoming the Kenyan High Commissioner, stated that Pakistan and Kenya have been enjoying excellent relations since 60s when Pakistan expressed its support for Kenya in getting independence from the British rule.
He said that Karachi offers a conducive business environment with a rapidly growing market. The city's strategic location as a major port and its well-established industrial base makes it an ideal destination for foreign investments. "We, at KCCI, are committed to facilitating and supporting collaborations that bring mutual benefits to both countries."
He also extended full support and cooperation of Karachi Chamber to Kenyan High Commissioner for all its future endeavors towards further strengthening the trade and investment cooperation between the two countries.