Commander Turkish Air Force visits air headquarters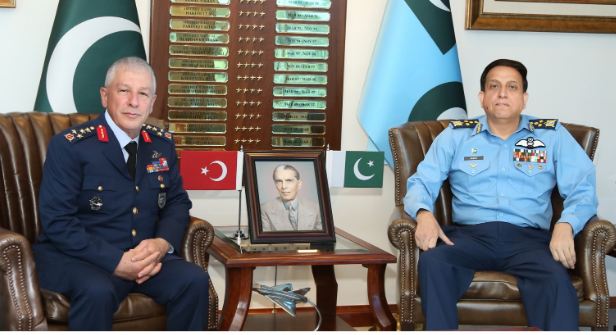 ISLAMABAD, OCT 18 /DNA/ – A delegation led by General Ziya Cemal Kadioğlu, Commander Turkish Air Force, called on Air Chief Marshal Zaheer Ahmed Baber Sidhu, Chief of the Air Staff, Pakistan Air Force in his office today. The meeting covered a wide array of matters related to geo-strategic situation, progress of current joint ventures and exploration of further avenues of collaboration in the aviation industry. The discussion also involved an exchange of insight from both dignitaries on the operational training of their respective air forces in the backdrop of PAF's on-going mega aerial exercise, Indus Shield 2023 which is being witnessed by dignitaries from around the globe. Both the commanders also agreed to explore further avenues of bilateral cooperation including collaboration for joint production of military hardware with special focus on unmanned aerial platforms.
On his arrival, a smartly turned out contingent of Pakistan Air Force presented guard of honour to General Ziya Cemal Kadioğlu. Later, the visiting dignitary was introduced to the Principal Staff Officers.
During the meeting, Air Chief Marshal Zaheer Ahmed Baber Sidhu, Chief of the Air Staff, Pakistan Air Force, shared the framework of PAF's comprehensive modernization strategy involving procurements of technological equipment from allied countries, bolstering critical infrastructure and a comprehensive restructuring of its training set-up, in order to address contemporary air warfare challenges. The Air Chief highlighted that both the brotherly countries enjoy long-standing religious and historic ties which are manifested through unprecedented strategic partnership. Appreciating the participation of Turkish Air Force in Exercise Indus Shield, the Air Chief reiterated his resolve to further enhance the existing bilateral relations in military-to-military cooperation, strategic alliance and the training domain. The Air Chief further remarked that PAF pilots are playing an active role in providing basic and tactical level training to Turkish aircrew. He reiterated Pakistan Air Force's commitment to provide training and capacity-building assistance to the Turkish Air Force.
General Ziya Cemal Kadioğlu, Commander Turkish Air Force, who is on his maiden visit to Pakistan, commended the professionalism of Pakistan Air Force and acknowledged its rising indigenous capacity in the aviation industry. He also expressed keen interest in the National Aerospace Science and Technology Park and appreciated the unwavering commitment of the Air Chief in making this project a huge success. The visiting dignitary further affirmed that the on-going exercise Indus Shield hosted by PAF, would be a way forward to further consolidate the existing bond of brotherhood and military ties between the two countries in addition to enhancing the operational readiness of the participating air forces.
During his visit, the Turkish Air Force Commander also visited various installations and technological infrastructure established at Air Headquarters, Islamabad including PAF's National ISR and Integrated Air Operations Centre and PAF's Cyber Command. General Ziya Cemal Kadioğlu also visited National Aerospace Science and Technology Park, which is a major landmark in Pakistan's journey towards progress and is all set to play a pivotal role in shaping the country's aerospace industry, fostering strategic partnerships and contributing to the economic growth of Pakistan.
The visit of Turkish Air Force Commander to Pakistan signifies a resolute commitment from both nations to reinforce their strategic partnership through fostering collaboration and promoting robust relations between their respective Air Forces.