CJP Jamali takes suo motu notice of Quetta carnage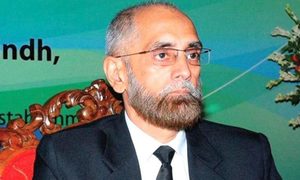 ISLAMABAD: Chief Justice of Pakistan (CJP) Justice Anwar Zaheer Jamali on Wednesday took suo motu notice of the Aug 8 suicide bombing at Quetta Civil Hospital hospital in which 73 people, most of them lawyers, were killed.
The CJP took suo motu notice under Article 184 (3) of the Constitution on a note submitted by the Supreme Court registrar Arbab Muhammad Arif containing details of the bombing, said a press release issued by the apex court.
"The Quetta incident has raised many doubts about the state of governance in Balochistan in particular and the country in general," read the registrar's note.
It said the way the planned incident took place brings into question the efficacy of the state machinery.
The registrar pointed to an alleged lack of proper security arrangements by the administration, saying it "constitutes violation of fundamental right of life and liberty guaranteed under Article 9 of the Constitution".
"Lack of security arrangements, despite past precedents points at the miserable failure of the provincial government and law enforcement agencies to avert the tragic incident."
The registrar attributed a further loss of life to "insufficient arrangements and medical facilities" at the Quetta hospital.
"The seriously injured were compelled to be shifted from Civil Hospital to Combined Military Hospital and other hospitals outside the province."
He regretted that the massacre appears to have been "forgotten".
"No headway has been made in either tracing the culprits or to mobilise state resources to prevent such occurrences in future."
The CJP ordered the office to fix the case in court on Sept 20 after perusing the registrar's note. He also ordered the relevant authorities to issue notices to the chief secretary, advocate general and inspector general of Balochistan.
A total of 73 people were killed and over 100 injured after a suicide bomber struck the emergency ward of Quetta's Civil Hospital, where scores of people had gathered to mourn the death of Balochistan Bar Association (BBA) president Bilal Anwar Kasi in a gun attack earlier in the day.
Witnesses present at the hospital at the time of the attack recalled complete chaos at the site, with bodies lying on the ground amidst pools of blood and debris.
The attack was claimed by Tehreek-i-Taliban Pakistan splinter group Jamaatul Ahrar and the militant Islamic State group, but Balochistan Chief Minster Sanaullah Zehri hinted at the involvement of Indian spy agency RAW.