Chinese construction machinery industry shows strong vitality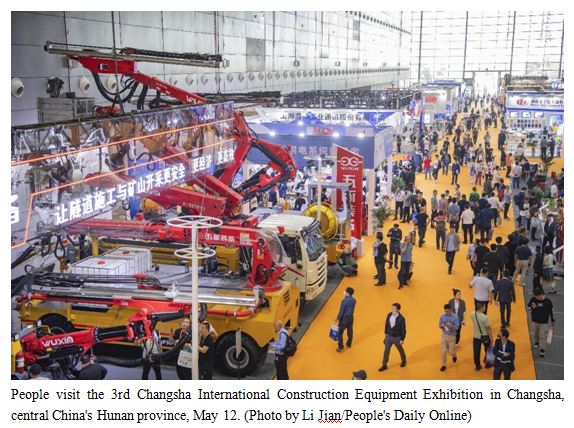 By Yan Ke, Shen Zhilin, People's Daily
The 3rd Changsha International Construction Equipment Exhibition was recently held in Changsha, central China's Hunan province.
Covering an exhibition area of around 300,000 square meters, the event was joined by over 1,500 enterprises. More than 20,000 equipment were exhibited, including a 2,400-ton all-terrain crane, the world's largest of its type, a four-boom face drilling rig able to drill holes with a depth of 5 meters within 2 minutes, as well as a satellite-guided fire-prevention aircraft that could automatically recognize and put out fires.
As the largest construction equipment exhibition in Asia, the event mirrored the new trends and changes in the Chinese construction machinery industry.
Many Chinese construction equipment manufacturers were once bothered by the insufficiency of key parts and technologies. However, things have completely changed today. Among the 1,500 participating enterprises, 70 percent to 80 percent were suppliers of parts and components.
"We have independently developed and manufactured hydrostatic transmissions with load capacities ranging from 5 to 8 tons, which are economical, reliable and efficient. They have been widely applied now," said Yan Wanbin, general manager of LiuGong Liuzhou Driveline Co., Ltd., a subsidiary of Chinese machinery manufacturer Liugong Group.
At the expo, machinery manufacturers debuted 30 new products and more than 200 new technologies, and 1,000 items were launched by relevant suppliers, including 120 innovative products and technologies.
These new products and technologies reflected the innovations and breakthroughs made by the Chinese construction machinery industry in technology, platform building and development philosophy.
The No.18 Factory of SANY Group, a leading Chinese enterprise of high-end equipment manufacturing, has a 100,000-suqare meter workshop in Changsha, central China's Hunan province. In the control room of the workshop, there are multiple screens that display the production in the facility in real time, including the work status of robots, production progress and other information.
According to Rao Youfu, an expert of intelligent manufacturing of SANY Group, the No.18 Factory has increased its capacity, efficiency and automation by 123 percent, 98 percent and 76 percent, respectively, since it went through intelligent transformation five years ago. The facility is able to manufacture 263 types of equipment, Rao said.
In a manufacturing base for earth-moving equipment owned by Chinese construction machinery manufacturer Zoomlion in the Xiangjiang New Area, Hunan province, an excavator is rolling off the production line every six minutes. Over 150 frontier technologies, including AI and digital twin, have been applied in all procedures of production, from materials preparation, welding, and coating to assembly and debugging.
The application of intelligent and green technologies has become a new advantage of the Chinese construction machinery industry in global competition.
According to an official with the Ministry of Industry and Information Technology, the industry has developed 11 demonstration factories of smart manufacturing, nearly 100 typical scenarios of smart manufacturing, and some 20 enterprises of green supply chain management. The official said the ministry will further promote the high-quality development of the construction machinery industry.
It is reported that last year, SANY Group's revenue from the overseas market reached 36.57 billion yuan ($5.18 billion), accounting for nearly half of the group's total income, and the export value of Zoomlion jumped more than 70 percent year on year. Besides, the overseas revenue of China Railway Construction Heavy Industry Corporation Limited surged over fivefold from a year ago, and the value of the company's new contracts grew 74.47 percent year on year.
Statistics released by the China Construction Machinery Association (CCMA) show that the exports of Chinese construction equipment hit $44.3 billion in 2022, setting a new record in history.
In particular, there was a significant rise in the exports of high-tech construction equipment. The exports of crawler excavators went up by 65.8 percent, those of wheeled excavators by 53.3 percent, and those of loaders with more than 320 horsepower by 87.8 percent.
Many Chinese construction equipment manufacturers have maintained sound momentum for growth in the overseas market this year.
An insider said that apart from the competitive edge gained through intelligentization and electrification, the increasingly maturing industrial chain and equipment manufacturers' improved global service capability also contributed to the momentum for growth.
The Chinese construction machinery industry is quite experienced after decades of domestic development, and will distinguish itself in the global market, said Su Zimeng, president of the CCMA.