China's initiative for global peace & prosperity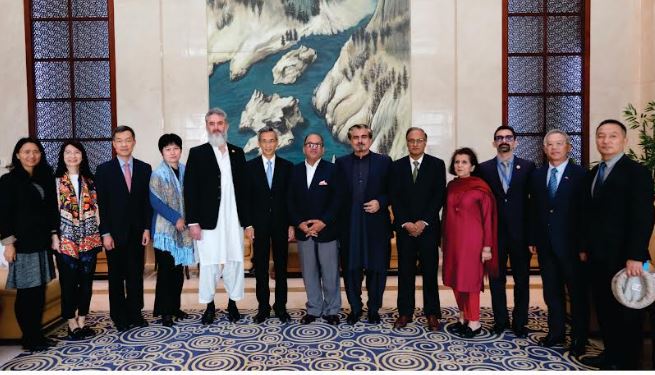 By: Syed Ali Nawaz Gilani
The President of Chinese People's Association for Friendship with Foreign Countries (CPAFFC), Ambassador Lin Songtian recently on his first Foreign visit, which was started from Pakistan, said that promotion of people-to-people exchanges, media cooperation and youth exchange programs are on top his agenda and he would love to work with Pakistani counterparts and officials to make this plan a success being an integral part of China's initiatives for global peace and prosperity.
Recently held successful 20th National People's Congress (NPC) of Communist Party of China's (CPC) indicated new goals to enable China to stay at the forefront of the world. CPAFFC President was heading 6-members high level delegation which included Mr. Ji Yongjun, Deputy Director-General Asian & African Affairs, Mr. Xu Yan Deputy Director-General Asian & African Affairs, Ms. Huang Xiaowei,Director Asian & African Affairs, Mr. Liu Chang, Deputy Director and Ms. Pei Xingchen, Section Officer.
CPAFFC President Ambassador Lin Songtian visit is very important which bring a message of encouragement for people to people interaction, strengthening sister cities relations at a high level to achieve the desired goal for peace enabling all to achieve prosperity in the world.During the visit the delegation called on Deputy Chairman Senate of Pakistan, Senator Mirza Muhammad Afridi, Federal Government officials apart from very important interactions with their counterparts.
All Pakistan China Friendship Association (APCFA), Pakistan China Friendship Association (PCFA) Khyber Pakhtunkhwa Province of Pakistan which was initially established in 1971 as Pak-China Student Friendship Association, Think Tanks, Art & Cultural reputed organization Hunerkada, interact with National Mass Media.
CPAFFC will going to complete its 7 decades of establishment as it was established on 3rd May 1954, by the than Chinese Premier Zhou Enlai by putting together 10 leading non organization as Chinese People's Association for cultural relations with Foreign Countries (CPACRFC), that were Chinese People's Committee for Protection of World Peace, China Federation of Literary & Art Circles, AllChina Federation of Trade Unions, All China Democratic Women's Federation, All China Democratic Youth Federation, All China Student Federation, China-India Friendship Association, China-Burma Friendship Association and Chinese People's Institute of Foreign Affairs, all these Association were later on combined together with leading Chinese People's Committee for World Peace and Chinese Committee for Afro-Asian People's Solidarity merged in to CPAFFC. Since its first President Mr. Chu Tunan (1954-1969) who was also Vice Chairperson of 6th National People's Congress Standing Committee headed more than a decade CPAFFC.
At present, Ambassador Lin Songtian who is China's top diplomat for Africancountries has contributed his visionary thoughts for the improvement of social-economic developmental activities and had earn great respect for China, Chinese people and himself.
PCFA Khyber Pakhtunkhwa Pakistan has the honor for having more than 3 decades friendly interaction and exchanges of delegation to further strengthening the common cause of CPAFFC & PCFA. PCFA has also having the honor to host CPAFFC President His Excellency Mr. Han Xu, H. E. Madam Li Xiaolin and now interact withH.E. Mr. Lin Songtian
The President CPAFFC while meeting with Deputy Chairman Senate of Pakistan, it was desired to have joint efforts for progress. During an hour plus cordial meeting, Ambassador Lin Songtian stated that China and Pakistan should work together to explore more opportunities in the social, cultural, and economic spheres for mutual benefit. Chinese Charge d'Affairs, Madam Pang Chunxue, Syed Zafar Ali Shah, and Syed Ali Nawaz Gilani, the Secretary-General of the Pakistan China Friendship Association (PCFA), were also present during the meeting.The visiting CPAFFC President Lin Songtian praised PCFA Khyber Pakhtunkhwa's efforts during the last three decades.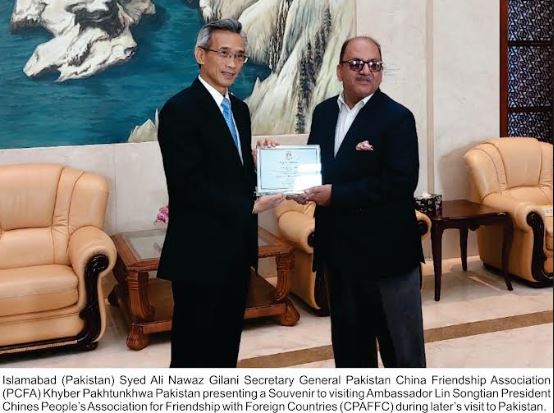 In this vein, he suggested to explore new possibilities and learning from one another's experiences to advance social prosperity & economic development. He also discussed his experiences while serving as China's Ambassador to the African continent. He said that sincere efforts combined with a clear vision can overcome the hurdles and bring positive social change.. He also expressed gratitude for China's assistance during the floods.
Along these lines, Senator Mirza Muhammad Afridi enunciated that the two partner countries ought to take advantage of historical and exemplary relationships to further solidify ties for future generations. Likewise, he mentioned that both China and Pakistan should further strengthen people-to-people as well as sister-city relationships to get benefit from each other experiences.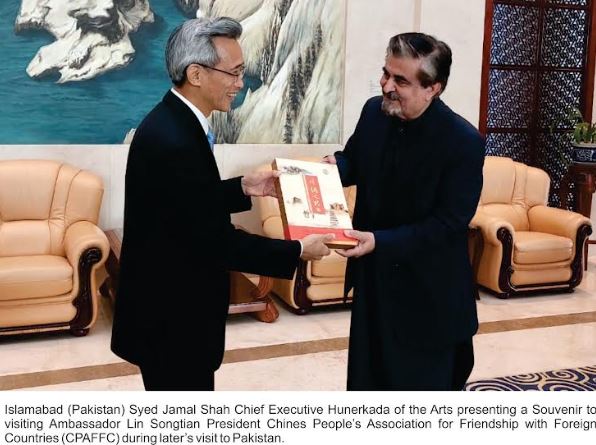 During two days stay of the CPAFFC delegation in Federal Capital in Islamabad, an important interaction was at China Pakistan Study Centre (CPSC) of ISSI where a roundtable discussion was organized with the 6-member delegation which was moderated by Dr. Talat Shabbir, Director China CPSC at ISSI while the Keynote speeches were delivered by Amb. Lin Songtian, and Senator Mushahid Hussain Syed. In his remarks Dr. Talat Shabbir, Director, CPSC said that the modernization of China is being termed as 'China's rise' in international politics.
In his keynote address, Mr. Lin Songtian, President CPAFFC said that despite all of the changes in global landscape, Pakistan has always stood by China and the same has been reciprocated by China as well. China has always stressed on shared prosperity and win-win cooperation and for that it encourages fast development of its neighbors particularly its iron-brother Pakistan. The purpose of this visit is to see what Pakistan has, where it stands, what it needs and how can China help and facilitate it. He stated that this visit also aims to carry forward the joint consensus of President Xi Jinping and Prime Minister Shehbaz Sharif. Speaking on the occasion, Senator Mushahid Hussain Sayed said that despite having different cultures, systems and beliefs Pakistan-China relations are quite unique, remarkable and unprecedented in the chronicles of modern history.
No matter how things change in the region or the world, China firmly support Pakistan's sovereignty and territorial integrity and Pakistan will do the same. It would not be wrong to say that China is the 'sheet anchor' of Pakistan's defense, territorial and economic interests. He noted that China today is the leader in globalization and is doing great work to make China more Green and Clean.
While interacting with Islamabad based media, President CPAFFC said "Media cooperation is helpful to promote people to people exchanges and we will invite Pakistani media to visit China and look for themselves the true story of how China defeated poverty. Capacity building is fundamental to development like human resources development. Vocational training schools are important in this regard.
He mentioned that China and Pakistan have 18 friendship cities and I would like to work to promote this bond so the two cities can work together to further develop together.. "Pakistan was among the initial group of countries to join the Belt and Road Initiative (BRI) and it has largely benefitted from CPEC.
In the second phase of the corridor, China is ready to support Pakistan in its journey to development and prosperity and in this regard they would extend help to Pakistan in transforming its human resource into skilled labour. We are also working in infrastructure building which is the key to regional and global connectivity," President CPAFFC was confident.
He said that keeping in view the iron-bond of friendship between China and Pakistan, he chose Pakistan as the first country for his overseas visit. He said that the CPAFFC had collected supplies worth 126 million RMB for flood hit people of Pakistan and these supplies would soon be shipped to Pakistan. "Pakistan is my second home. We always remember that Pakistan always stood for China and also helped Chinese people in natural calamities and fighting COVID-19. I also came to help implement the consensus reached between President Xi and Premier Shehbaz Sharif on promoting people to people exchanges to shape a community with a shared future for mankind," Amb. Lin Songtian said. He said under the CPEC, China plans to connect China's Xinjiang with Gwadar through high speed railway as infrastructure building is key to development.
"We are moving to the second phase of the CPEC. I would urge investors from China and other countries to come and invest in Pakistan. I also plan to promote people to people exchanges.We shall contribute to foster a new type of international relations and the building of a community with a shared future for mankind by playing our part in people-to-people diplomacy. To achieve these goals regular exchange of delegations from all walks of life to further understand China and to cultivate these friendly relations for the benefits of both nation and region, we always support and appreciate CPAFFC initiatives.
(The writer is Secretary-General Pakistan China Friendship Association Khyber Pakhtunkhwa Province Pakistan email syeed.gilani@gmail.com)