China was waiting for PML-N rule to make CPEC investment, says Nawaz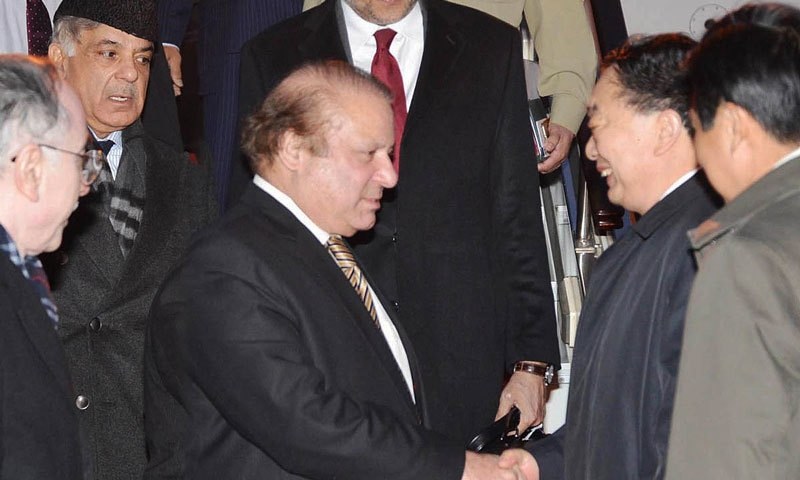 ISLAMABAD: Prime Minister Nawaz Sharif, while addressing a meeting of PML-N 's parliamentary committee on Thursday, said Chinese President Xi Jinping during his visit to Islamabad last year said the China Pakistan Economic Corridor (CPEC) was a 'gift' to Pakistan.
"He [Xi Jinping] said this is a gift to you from China. They were also waiting for the time when our government would be in power so that they could make this investment," Nawaz said, referring to the $46 billion investment made by the Chinese government for various projects under the CPEC.
"Our government has been working with great sincerity, there have been no accusations of kickbacks or corruption against us," he claimed.
Earlier this week, following a high-level cabinet meeting on energy, officials in the know suggested the government is losing sleep over its promise of ending loadshedding by May 2018.
"The risk is too high if the government fails to generate required amount of megawatts and control loadshedding before PML-N leaders hit the road for the 2018 general elections campaign," a PML-N legislator privy to the government's nervousness caused by the severity of the task admitted earlier.
A ministry of water and power official said the government, in the face of a furious opposition and colossal challenge, 'had no option but to deliver'.
PM Nawaz, in his address to PML-N officials, lauded the swiftness with which power projects are being undertaken. "Lots of power projects are being undertaken," he said, claiming that Chinese officials privy to project developments have said "they are being built faster than such projects were built in China".
"We want to deliver on the commitments we have made to the people," he said. "Why weren't power projects given importance by previous governments? Why weren't they being set up when we came to power in 2013? If anyone cared about these projects between 2008 and 2013, why didn't they do it?" he asked.
The premier called for former president Pervez Musharraf and others who were in power to be brought before the National Assembly and questioned by parliamentarians. "Ask them why they ruined Pakistan," he said. "You were in power, why didn't you pay attention to this problem?"
"Producing more power, ending loadshedding and supplying cheap electricity are our goals," Nawaz said, adding that exploration of coal deposits in Thar and setting up coal-based power plants would aid in achieving this end. "For the first time in 70 years in Pakistan's history, coal is being extracted from Thar… This should have been done 70 years ago," he said.