China sees fastest improvement in air quality globally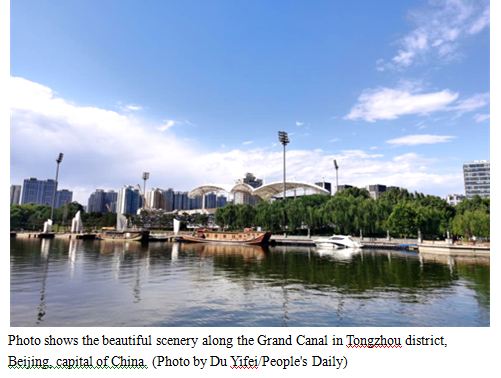 By Liu Yi, Kou Jiangze, People's Daily
There have been significantly more "blue sky" days over recent years, said Zou Yi, a Beijing citizen. Since 2013, Zou has taken photos of the sky at a fixed spot in Beijing's Chaoyang district every day, as a way to record the changes in air quality. So far, he has taken over 3,000 photos.
"The city is getting more and more beautiful, which gives people a better mood," he said.
Heavy smog was once a big headache for Beijing citizens. To cope with the severe problem, Beijing, Tianjin, Hebei and surrounding cities have strengthened efforts to control air pollution caused by industrial production, coal consumption, automotive and dust.
Last year, Beijing's annual average concentration of major airborne fine particulate matter, or PM2.5, dropped to 30 micrograms per cubic meter, reaching the second-level national standard for two consecutive years.
Compared with 2013, the figure was reduced by 60 micrograms per cubic meter. Also, the annual average concentrations of PM10, nitrogen dioxide and sulfur dioxide fell by over 50 percent in the Chinese capital.
The improvement in Beijing is a miniature of China's efforts to better air quality. Since 2013, the country has launched an Air Pollution Prevention and Control Action Plan and a three-year action plan on air pollution control, making remarkable and historic achievements.
China is the world's first developing country to control PM2.5 pollution with comprehensive treatment. It has twice improved its atmospheric pollution prevention law.
With a firm determination and unprecedented measures, local authorities and relevant departments across the country are confident in defeating air pollution.
Regions across the country have vigorously adjusted industrial, energy and transportation structures, put high-energy consuming and high-pollution industries under strict control, and raised standards on energy conservation and environmental protection.
Under the blue sky in Linfen, north China's Shanxi province, people are working out in the fresh air along the ancient city walls and Fenhe River.
"Today, there are more and more ecological beauties for us to shoot. The storage of my hard disk is just running out," said Yan Ruipeng, a photographer in Linfen, north China's Shanxi province.
Linfen once relied on resource-based industries such as coal, coking and steel. In 2016, it ranked last among all 168 key cities in China in terms of air quality. The concentration of sulfur dioxide once exceeded 1,000 micrograms per cubic meter three times in just 10 days.
To turn things around, the city launched forceful measures. The average annual concentration of sulfur dioxide in the city fell to 10 micrograms per cubic meter last year, an 80 percent drop from 2017.
"Photos look great even without toning," Yan said.
Historic changes have taken place in China's air quality over the past decade thanks to the forceful and targeted measures launched by relevant departments and local authorities.
A clean and low-carbon energy structure has been improved.
Two-thirds of the increase in China's energy consumption came from clean energy in the past 10 years. The country ranks first in the world in terms of the development and utilization of new energy and renewable energy.
Its total installed capacity of renewable energy power generation has exceeded 1.2 billion kilowatts, and the consumption of clean energy accounts for over a quarter of the country's total energy consumption.
Besides, China has built the world's largest clean coal power generation system, and is home to 1.05 billion kilowatts of coal-fired power units that have achieved ultra-low emission status.
The industrial structure has effectively carried out green transformation and upgrading.
Over the past 10 years, China has worked vigorously to eliminate outdated capacity and reduce excess capacity, cutting about 300 million tons of steel, 300 million tons of cement and 150 million weight cases of plate glass. The country is comprehensively promoting the ultra-low-emission upgrading in the steel industry, and around 630 million tons of crude steel capacities have completed or are in the process of the upgrading.
Green transitions have been made in the transportation system.
The country has shifted more freight transport from road to railway. Last year, Chinese railways transported over 4.98 billion tons of cargo, up 211 million tons from a year ago.
Over 30 million old and high-emitting motor vehicles were removed last year, and the country now has more than 10 million new energy vehicles, ranking first in the world.
Air quality has been improved with science and technology support.
The country established a national joint control center for preventing atmospheric pollution, which is joined by over 2,000 researchers. They have made key technological breakthroughs in the causative mechanism, targeted control and forecast of atmospheric pollution, and completed a research program on causes of heavy air pollution and proposed solutions.
Last year, the share of days with good air quality stood at 86.5 percent in 339 cities across the country at or above the prefectural level. The proportion of days with heavy air pollution was 0.9 percent, dropping to less than 1 percent for the first time.
In 2022, the average PM2.5 concentration dropped to 29 micrograms per cubic meter in those cities, falling below the 30-mark for the first time since the data was first monitored.
China's experience in smog control contributed the Chinese wisdom and plans to global environmental and climate governance. China's ecology and environment minister Huang Runqiu noted that China has seen the fastest improvement in air quality across the world.
Huang added that according to Bloomberg, China has reduced air pollution in seven years between 2013 and 2020 nearly as much as the United States did in three decades since the U.S. Clean Air Act was implemented.