Chairman PRCS reinforces strong bilateral ties in meeting with Iranian ambassador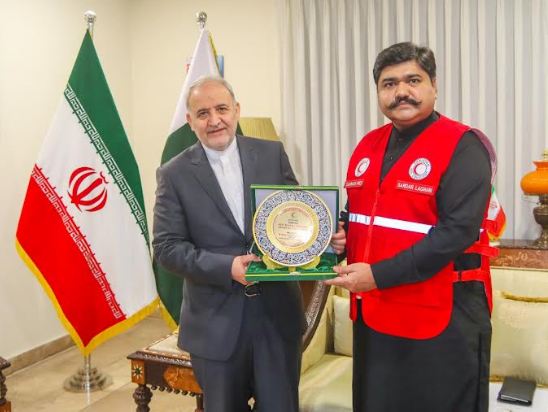 DNA
ISLAMABAD, NOV 10 – In a significant diplomatic interaction, Chairman of Pakistan Red Crescent Society (PRCS), Sardar Shahid Ahmed Laghari, recently visited the Iran Embassy in Islamabad and engaged in a productive meeting with His Excellency Dr. Reza Amiri Moghaddam, the Iranian Ambassador. The meeting underscored the deep-rooted bond between the two nations, aptly described by His Excellency as 'Two souls and one body.'
The centerpiece of the discussions was the robust relationship between Pakistan and Iran, characterized by mutual affection and shared commitment. Ambassador Dr. Reza Amiri Moghaddam lauded PRCS for its commendable efforts, particularly highlighting the success of a recent fundraising event hosted in October. The event shed light on the organization's pivotal role in addressing the challenges faced by vulnerable communities, offering His Excellency a comprehensive understanding of the issues at hand.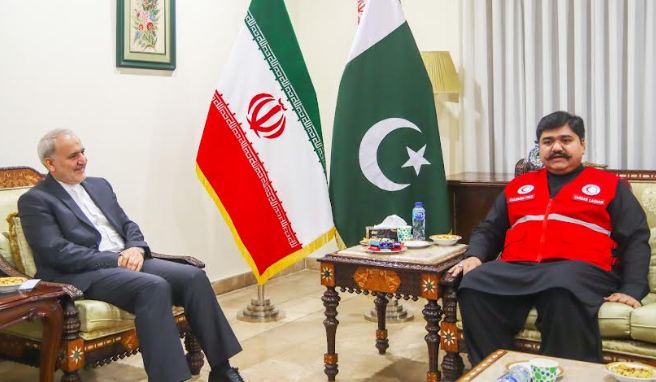 Expressing appreciation for PRCS's proactive role in tackling natural catastrophes, Ambassador Dr. Reza Amiri Moghaddam extended gratitude for the organization's initiatives during last year's devastating floods in Sindh, Balochistan, Punjab and KPK regions. While acknowledging the dire situation, Chairman Laghari emphasized the need for continued collaboration not only in times of disaster but also on regional issues.
The meeting delved into the current humanitarian crisis in Gaza, with both leaders recognizing the significance of Red Crescent involvement. Chairman Laghari proposed a pragmatic approach to support people of Palestine, suggesting cash funds for targeted aid, and expressed PRCS's commitment to rallying support from other national societies.
Additional discussions centered around collaborative healthcare efforts in Quetta, focusing on two dispensaries and the potential engagement of Iranian experts to enhance the training of local staff. Ambassador Dr. Reza Amiri Moghaddam announced the installation of two dialysis plants in Pakistan, showcasing a joint dedication to fortifying healthcare infrastructure. The Iranian experts will provide training to the PRCS technical team for operating the plants, and PRCS will assume responsibility for their operations.
Chairman Laghari highlighted PRCS's extensive network of 6 million volunteers across Pakistan, proposing collaboration between PRCS and Iran on various healthcare and community-based initiatives. The exploration of additional humanitarian avenues will be pursued through strengthened ties and coordination between PRCS and the Iran Red Crescent Society. The PRCS Chairman extended an invitation to the Ambassador of Iran to visit the PRCS National Headquarters, reciprocated by the Ambassador's commitment to arrange a visit for the PRCS Chairman to Iran, enhancing coordination between the two organizations and with different stakeholders in Iran.
As the meeting concluded, Chairman Sardar Shahid Ahmed Laghari presented a memento to Ambassador Dr. Reza Amiri Moghaddam, symbolizing the enduring partnership between the Pakistan Red Crescent Society and the Iranian Embassy. Both dignitaries expressed their dedication to further fortifying the bonds that unite the two nations.