CEO RIS Walid Mushtaq hosts Farewell Reception of Egyptian, German & Spanish Ambassador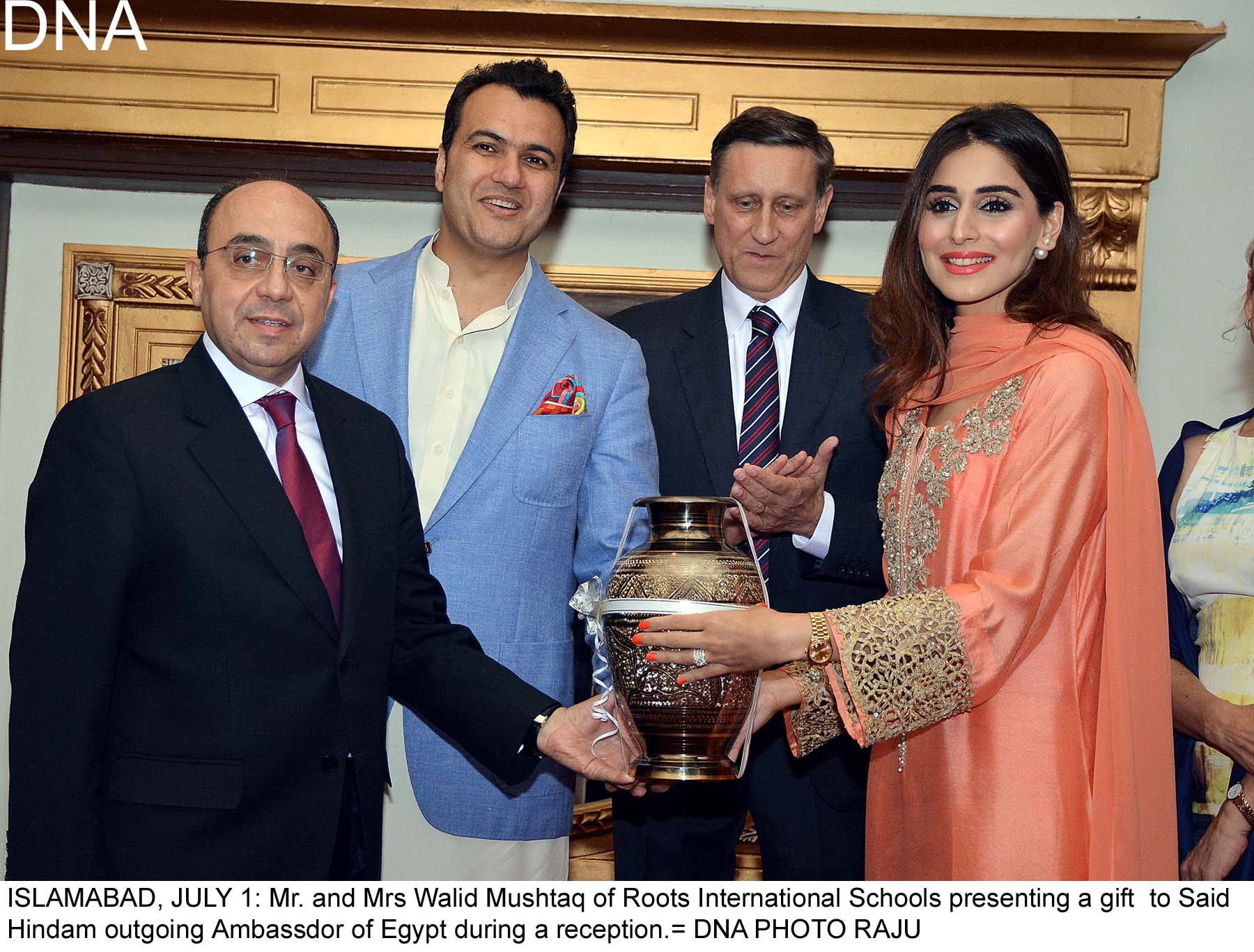 ISLAMABAD, JUL 01 (DNA) – A farewell reception at the iftar dinner of the three Ambassadors; Mr. Said Hindam, ambassador of Egypt; Dr Cyrill Nunn, ambassador of Germany and Mr. Javier Carbajosa, ambassador of Spain was hosted by Mr. Walid Mushtaq (CEO) and Ms. Sara Walid (Exc. Director) of Roots International Schools .
State Minister for Education Mr. Muhammad Baligh Ur Rehman, Federal Minister for States and Frontier Regions General Abdul Qadir Baloch, Punjab Minister for Education Mr. Rana Mashhood, Dean of Diplomatic Core & Argentinian ambassador Mr. Rodolfo J. Martin-Saravia, Senator Iqbal Zafar Jhagra, Senator Nuzhat Sadiq, Senator Talha Mehmood, MNA Malik Ibrar, Advisor to the Prime minister Musadiq Malik, Chairman board of investment Mr. Miftah Ismail, Presidents of FPCCI, RCCI, ICCI and ambassadors and high commissions of over thirty countries including ambassadors of EU, Bosnia, Bulgaria, Austria, Palestine, Nigeria, Kenya, Cuba, Denmark, Bangladesh, Korea, Hungary and people from all walks-of-life were present at the occasion.
The ceremony was held to bid farewell to the ambassadors of Germany, Spain and Egypt. H.E Mr. Said Hindam has served as the Ambassador of the Arab Republic of Egypt to Pakistan. During Mr. Hindam's tenure, his Services for Islamic Republic of Pakistan are laudable and praiseworthy. The successful collaborations, the innovative initiatives, and the strong partnerships that were possible due to his efforts are admirable. His Excellency Dr. Cyrill Nunn has been the ambassador to Islamic Republic of Pakistan since July 2012. His services compromise of education development and youth empowerment especially through technical & Vocational training in Pakistan. His endeavors & Initiatives in these few years are truly significant and commendable. Mr. Javier Carbajosa is the Spanish Ambassador to Pakistan. All the work he has done in his time here, the countless meetings that he has initiated, his efforts, have laid the groundwork for long-term gains in our partnership, and he will be remembered through the projects as they will yield results over the years.
This ceremony was arranged so that everyone can enjoy one last evening together with the diplomats as they depart from our homeland and bid farewell to Pakistan. Roots International schools' CEO Mr. Walid Mushtaq and Ms. Sara Walid said farewell to the excellences, presented mementos and wished them all the very best for their next appointment and future endeavors.