CDA asked to develop infrastructure before auction of plots to facilitate investors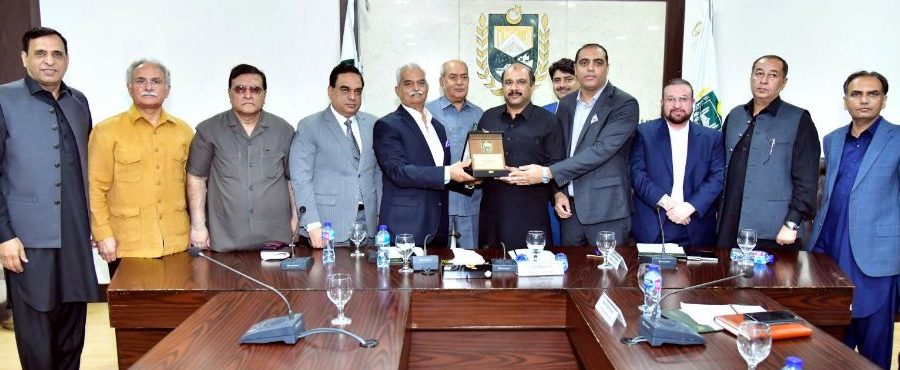 ISLAMABAD, OCT 16 /DNA/ – Faisal Naeem Baig, Director General Building & Housing Control of CDA along with his team visited Islamabad Chamber of Commerce and Industry (ICCI ) to give a presentation to the business community on auction of plots by CDA scheduled to be held on Oct 17-20, 2023 at Jinnah Convention Center Islamabad. The auction will include commercial, industrial, hotel, hospital, school, petrol pump, class three shopping center, farm houses and residential plots. Zafar Iqbal Director General Planning, Arshad Chohan Deputy Director General Planning, Asad Abbas Director EM-II, Javed Feroz Director BC City and Ejaz Sheikh Director Urban Planning were in the CDA delegation.
Speaking on the occasion, Faad Waheed, Acting President, Islamabad Chamber of Commerce and Industry said that CDA should ensure complete development of basic infrastructure and provision of all required services before auctioning of plots to facilitate the investors as many cases, investors have spent huge amount of capital on the purchase of commercial plots from CDA, but have to suffer for long due to lack of availability of basic infrastructure and needed services. He said that CDA should provide a one window facility to the investors to facilitate them in the post-auction process. He said that CDA should use the revenue of auctioned plots on the development of markets and industrial areas to facilitate the growth of business activities. He said that investors have to face problems in getting NOC from the Environment Protection Agency of auctioned plots for construction purposes and stressed that CDA should arrange such NOC from EPA to save the investors from unnecessary problems. He further stressed that CDA should finalize building byelaws in consultation with the stakeholders as unilateral finalization of such laws creates a lot of problems for the investors.
Faisal Naeem Baig, Director General, Building & Housing Control of CDA gave a comprehensive briefing to the business community about the auction of plots from October 17-20, 2023 and assured that the concerns raised by the business community about the auction process would be taken up for redress. He said that auction of plots is a main source of revenue for CDA and assured that a proportionate amount of auction amount would be spent on the development of concerned areas. He said that CDA is focusing on the better development of infrastructure to facilitate the business community. He said that CDA would arrange a one window facility for successful bidders of the auction to facilitate them in the post-auction activities.
Engr. Azhar ul Islam Zafar, Vice President ICCI said that the completion certificate of commercial buildings should be issued on time as the delay in their issuance causes losses to the investors. He said that the investors have to wait for a long for their cases in the Estate Department and stressed that the CDA should streamline this process.
Khalid Iqbal Malik Group Leader, Muhammad Ejaz Abbasi, Zafar Bakhtawari, Mian Shaukat Masud, Sardar Tahir, Sardar Rashid Ilyas Khan, Mussarat Ejaz, Rizwan Cheenah, Khalid Chaudhry and others also spoke on the occasion and gave useful proposals to improve the pre-auction and post-auction activities of CDA to facilitate the investors.