CCP holds seminar on competition advocacy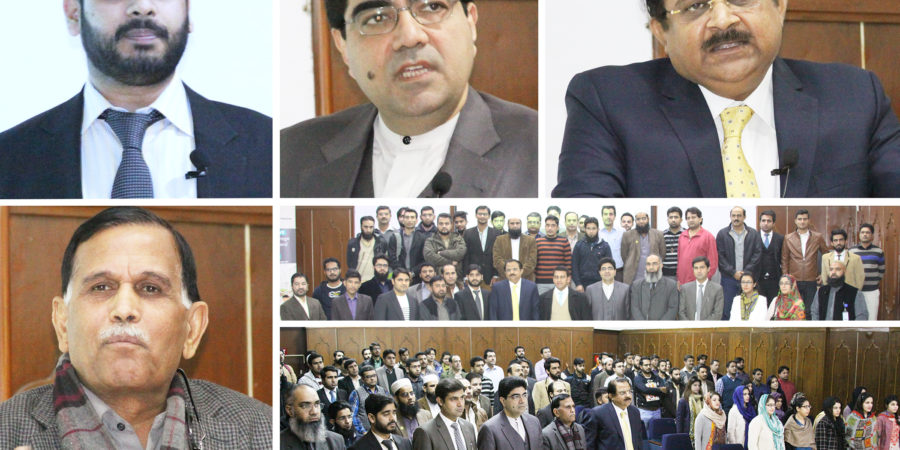 ISLAMABAD, NOV 29 (DNA) -: The Competition Commission of Pakistan (CCP) held a seminar at the Riphah International University as part of the national campaign, 'Competition Advocacy Academia Drive', started by CCP to create awareness of the Competition Law among the students and faculty members of the universities.
This was the second seminar in the first round of the advocacy campaign that was kicked off from Comsats Institute of Science & Technology which will be followed by seminars in 11 universities of Islamabad and Rawalpindi.
The seminar was attended by the faculty members and post graduate, Mphill and PhD students of law, economics and management sciences in large number.
Professor Amanullah Khan, Dean Faculty of Management Sciences of Riphah University announced that the University will adopt the Module on Economics and Competition Law developed by CCP with the collaboration of King's College London. "We appreciate this initiative of CCP and we hope that the Module will be a useful addition to the syllabus of our university," Khan said.
While appreciating the advocacy campaign of CCP to create awareness of the Competition Law, he said that the students should keep abreast of the modern laws and new disciplines in the relevant fields and suggested to hold more such interactive sessions at the university. "In wake of the modern day challenges and emergence of new disciplines in the field of economy, it is a need of the hour for academia to reach a long term collaboration with CCP," he added.
Speaking on the occasion, Dr. Shahzad Ansar, Member Office of Fair Trade (OFT) & Advocacy CCP, said that the purpose of academia drive is to create awareness of the law as well as to introduce the Module on Economics and Competition Law to academia. He welcomed the proposal of Riphah University to hold more such interactive sessions for the awareness of students.
The officials of CCP briefed the participants on various aspects of the Competition Law and policy. The presentations included an animation on Competition Law, a brief overview of the evolution of Competition Policy and Law worldwide, an outline of the Pakistan's Competition Law, and an interesting presentation on the role of the Office of Fair Trade (OFT) in curbing deceptive marketing practices.
In the interactive session, the students and faculty members asked various queries relating to the Competition Law, which were responded by the Commission's team. =DNA
================