Call Indian atrocities "terrorism" & may be then world will notice: Sherry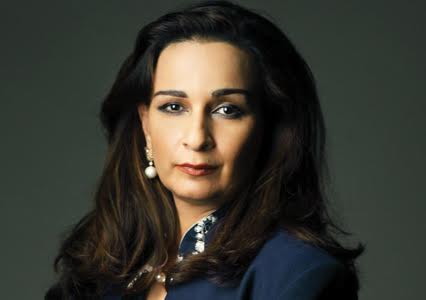 ISLAMABAD, 26 SEP, (DNA) – Responding to the latest in raging vilification from India, Vice President PPPP, Senator Sherry Rehman said Monday, "If terrorism is the biggest violation of human rights, then lets refer to Indian atrocities in Kashmir as state terrorism. Maybe then the world will take note."
Commenting on Indian External Affairs Minister Sushma Swaraj's speech at the UNGA, Rehman said, "Raging rhetoric only serves to further isolate Kashmiris. What they keep referring to as an integral part of India is a region of people who under the UN Charter have a right to self-determination." "A plebiscite is their right and Pakistan supports that and condemns Indian atrocities in that region in the possible strong words," she added.
Isolating Pakistan
"After accusing Pakistan of orchestrating the Uri attack, India has been consistently working to garner global support in order to isolate Pakistan. The question to be asked is this: Why and how would Pakistan send proxies into fenced off Uri just before the UNGA, where Pakistan was going to raise the Kashmir issue?" asked Rehman.
"Pakistan gains no advantage in doing so – in fact, this is the worst thing that could happen at a time when we were sure the world would have to stop ignoring Indian atrocities is Kashmir," she maintained.
Referring to PM Modi's earlier statement on isolating Pakistan and the bill submitted in US Congress that calls for declaring it a terrorist state, Rehman said, "Calling to globally isolate Pakistan kills two birds, one of which is Delhi's need to calm down its own citizens who began calling to move past rhetoric and take military action against us, something India knows well it cannot engage in."
India's own analysts and experts have raised doubts about India's capability to wage a war against Pakistan and after being caught between the needless beating of their own war-drums and their inability to act at the time, India seems to have resorted to the global isolation plan.
"India consistently equates Kashmir with Balochistan. The two are not the same and this cannot be stressed enough. Balochistan is an internal issue and this comparison makes as much sense as comparing Kashmir to the one-sixth of India that is under insurgency," Rehman stated.
Rehman added, "I am disappointed that the PM did not mount a vigorous defence of this new false equivalence. Many parts of India are under insurgency. We know that we have been failing the Baloch people but there is no question of equating the two in international law."
"One is a disputed territory and the other is not. Many of us fail to understand why we could not defend our own federation at the largest international forum. The Indian FM and indeed their PM, has left no stone unturned to vilify Pakistan, but we still seem shy of calling a spade a spade, let alone deploying 21st century diplomacy", said the Senator.
"Pakistan needs to change its global narrative. This is an essential part of global smart diplomacy but we still look to boilerplate conventional speeches. We must put our own house in order, but also stop being in denial that the new India does not look to peace but to keep the war pot boiling, irrespective of actual war which is both unlikely and ill advised. There is no doubt that as two responsible nuclear states, both governments should find pathways to peace, not single-lens roadblocks such as terrorism." the Senator further stated.
The Senator reiterated that, "War drums over Uri attacks will not solve anything. There can be no military answer to the diplomatic firestorm between India and Pakistan." =DNA