Breakfast meeting with Charles Delogne Ambassador of Belgium to Pakistan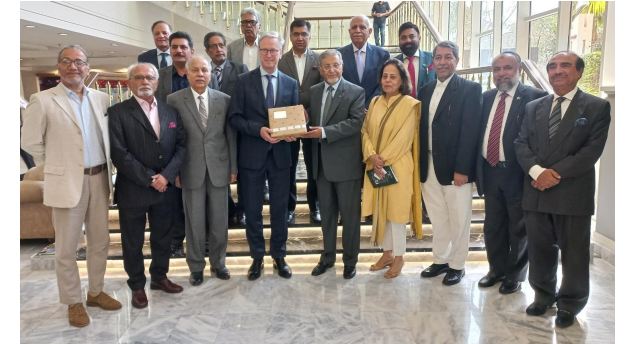 DNA
KARACHI, APR 26: Pakistan Council on Foreign Relations (PCFR), hosted a breakfast meeting with Charles Delogne Ambassador of Belgium to Pakistan at a Marriott Hotel, Karachi.
The meeting was attended by Mr. Justice Gulzar Ahmed, former Chief Justice of Pakistan and Co-Chief Patron of the Council, Mr. Abid M Husain Trade Commissioner Embassy of Belgium, Ambassador Alam Brohi, Ambassador G R Baluch, Ambassador Syed Hasan Habib, Mr. Ahsan Mukhtar Zubairi, members of business community, patrons, and senior members of the council.
Charles Delogne highlighted the importance and scope of relations between Belgium and Pakistan. Excellency maintained that both countries enjoy strong trade and economic relations.
He further highlighted that Belgium offers scholarships for Pakistani students and nearly 50 Pakistani students are pursuing PhDs from there.
Dr. Khalida Ghaus senior member of the Council highlighted the need of cooperation between the PCFR and Belgium based think tanks for undertaking collaborative research projects.
Delogne appreciated the idea and agreed to support such undertakings during his tenure of the office. The meeting was followed by interactive discussion on various other issues of mutual interest. At the Ahsan Mukhtar Zubairi Secretary General presented souvenir to Charles Delogne.