Bosnian envoy indebted to Pakistan for support in difficult times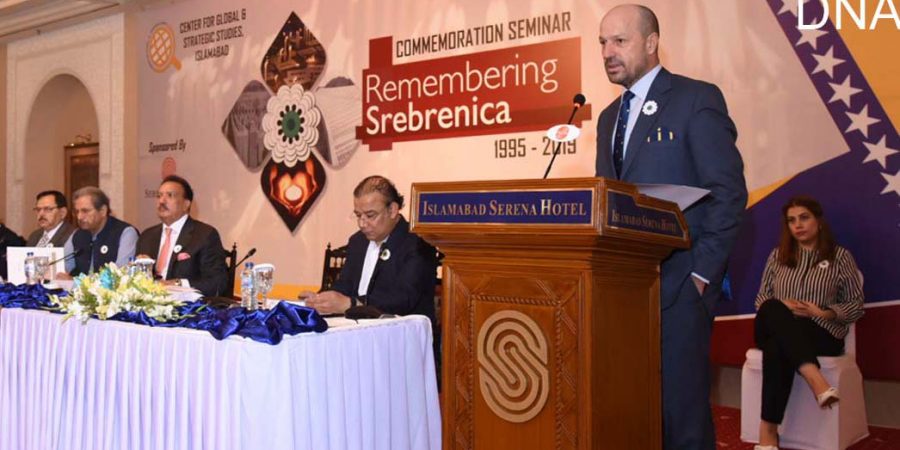 ISLAMABAD, JUL 8 (DNA) – Ambassador of Bosnia and Herzegovina Sakib Foric has said Bosnia will never forget support of Pakistani people to survive terrible war ethnic cleansing, massive killings and massacre of Bosnian people.
Today is the day to stay together and never forget Srebrenica.
The ambassador expressed these views while speaking on the occasion of a conference held in connection with the Bosnian genocide and Srebrenica massacre 1992-95, organized jointly by the Bosnian embassy and CGSS.
Ambassador Foric further said are commemorating 24th anniversary of Srebrenica genocide in order to show solidarity with the victims' families.
The ambassador stressed the Pakistani media, members of the civil society and nongovernmental organisations to properly highlight the issue.
Federal Minister for Education and Training Shafqat Mahmood and Senator Rehman Malik were also in attendance.
One minutes silence was also observed on the occasion.
Ambassador said, both Bosnia and Pakistan enjoy cordial relations. He particularly mentioned Pakistani support during the testing times and said Bosnia and Bosnian people shall never forget Pakistan's gesture of friendship and brotherhood.
Maj. Gen ® Khalid Amir Jaffery, President of Centre for Global and Strategic Studies (CGSS) said "I dedicate this day to commemorate and honour the victims of Srebrenica.
When we remember Srebrenica our thoughts and sorrowful hearts go first and foremost to the victims of Bosnian Muslims and to their loves ones".
Gen. Jaffery who has served as Pakistan ambassador to Bonsia, said they had a sacred duty to remember the cruelty that occurred and to prevent such atrocities from happening again.
Gen Jaffery said they had an obligation to victims and to their surving family members and have the responsibility to future generations all over the globe to agree that we must
stand up for human dignity and the principle of justice for the victims of such tragic events.=DNA
===============