Baligh distributes Laptop among PIEAS students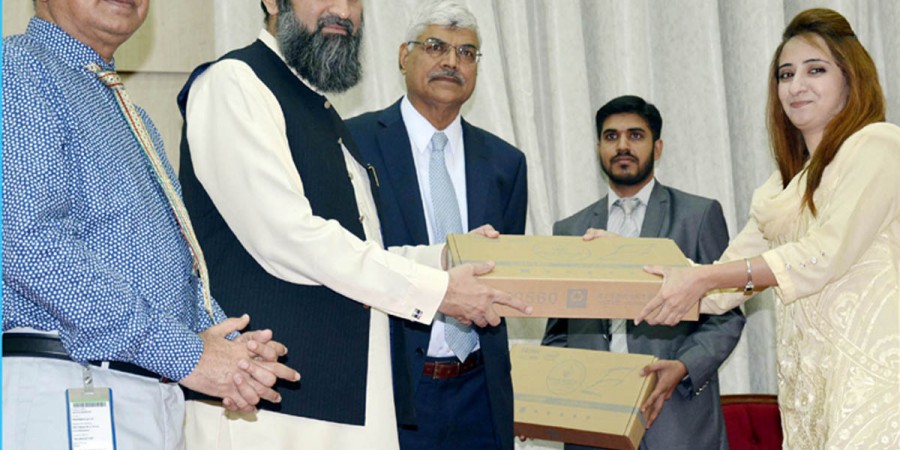 ISLAMABAD, 22 JUNE, (DNA) – Minister of State for Education and Professional Training, Engr. Muhammad Baligh Ur Rehman attended the Laptop Distribution Ceremony as a chief guest along with the Rector Dr. Muhammad Aslam (PIEAS) and executive Director HEC, at PIEAS (Pakistan Institute of Engineering and Applied Sciences) Wednesday.
Speaking on the occasion, the minister said: "It is my pleasure to be here at PIEAS, for the first time, in one of the top-most engineering universities of Pakistan, said the minister in his opening remarks".
"I feel proud of the brilliant scholars, scientists and engineers of PIEAS who have contributed immensely to the scientific research in Pakistan and made it possible to train experts in various fields of engineering crucial to the survival of Pakistan as an emerging Muslim nation in Science and technology. It is due to dedicated efforts of institutions like PIEAS which have placed Pakistan at the top in engineering and science among the Islamic countries", Baligh said.
Minister of State said that in order to continue the journey towards scientific and technological proficiency, the government of Pakistan under the leadership of Prime Minister Muhammad Nawaz Sharif has undertaken the Prime Minister's Laptop Scheme for young and bright students studying in public sector higher education institutions.
This program encourages bright students to pursue further research and academic work in their respective fields in the public sector universities. This scheme has faced some criticism on provincial and federal level but we are committed to enable our brilliant students to use technology to enhance their educational expertise and use their knowledge for development of their communities, stated the minister.
Minister of State said that this laptop scheme has narrowed down the digital gap in the students and had immensely helped in their academic research. We can proudly claim that there has been no political interference in the distribution of the laptops, there has been no violation of merit in their distribution, emphasized the minister.
Talking about the role of HEC, State Minister said that since the inception of HEC, its funding has been increased but in last 3 years its funding has been increased to Rs. 82 Billion from Rs. 40 billion.
Praising the other schemes like Fee reimbursement scheme of Prime Minister, state minister said that our government is fully committed to the education. Further he added that things are improving; security situation is getting better, our economy and energy sector have been improved. This $46 billion investment from China is the sign of confidence of international community in our economy, so we should stay focused and hopeful.
Rector PIEAS said that PIEAS has been benefitting from HEC programs since 2000 and has been thrice ranked as a top engineering university of Pakistan in the HEC ranking, since 2006. He further added that due to the remoteness of the area and security concerns not many people are familiar to this amazing university.
There are 13 MS programs (8 Engineering programs, 5 Applied Sciences Programs) along with the 5 Bachelors programs currently ongoing in the university. He also mentioned that 160 PhD students have been awarded degrees recently in different disciplines. Moreover he told that around 18 cancers hospitals including the famous Noori Hospital in Islamabad, are working under PIEAS.
In the end, Minister of State said that the students are our national asset they are our future and we should invest in our future with full dedication. I would congratulate all the bright students of PIEAS to continue with their excellent academic achievements with the help of these laptops and contribute to the development of science and technology in Pakistan, said the minister.
He further added that he hopes that the laptop scheme would contribute to national progress and pride in national achievements. =DNA
==========