Bajwa 'rescued' Shehbaz Sharif in corruption cases, claims Imran Khan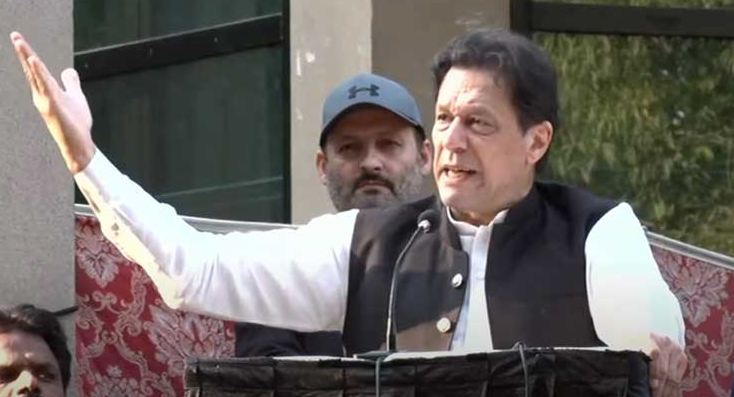 LAHORE: Pakistan Tehreek-e-Insaf (PTI) Chairman Imran Khan is addressing his party workers and supporters at his Zaman Park residence in Lahore despite Senator Shibli Faraz claiming that the former prime minister was not at Zaman Park.
The Islamabad police today arrived at Imran's residence earlier in the day to take him into custody for his persistent absences from Toshakhana court hearings.
Addressing the party workers, Imran Khan paid tribute to them for the way they participated in the 'Jail Bharo Tehreek' (court arrest movement). The former prime minister stressed he was "not going to bow in front of anyone and nor allow anyone else from his party to do so".
He claimed that Prime Minister Shehbaz Sharif was "about to be convicted by National Accountability Bureau and Federal Investigation Agency for Rs16 billion of corruption, but Gen (r) Bajwa rescued him.
"PM Shehbaz was rescued by former chief of army staff General (retd) Qamar Javed Bajwa who kept getting [the] NAB cases trial postponed.
He alleged that another plan was hatched to assassinate him during court appearances. "No security was placed during my appearance in Islamabad courts".
The former prime minister said that his legal team will write a letter to the Chief Justice of Pakistan to take notice of the matter.
Islamabad police attempt to arrest Imran
The Islamabad police on Sunday reached former prime minister Imran Khan's Zaman Park residence to arrest him after his non-bailable arrest warrant was issued by the Islamabad sessions court in the Toshakhana case.
Additional sessions judge Zafar Iqbal of an Islamabad court had issued the former prime minister's non-bailable arrest warrant on February 28.
In a series of tweets, the Islamabad police said the former premier is avoiding arrest.
Taking to Twitter, Islamabad police spokesperson said that they have reached Lahore to arrest PTI chief on court orders. He said that Khan will be arrested after all legal requirements are completed.
It stated that the PTI chief was "avoiding" the arrest, adding that the superintendent of police had "gone into Imran's room but he was not present there".
He also warned of legal action against those creating hurdles in the arrest of the former premier. "Imran will be shifted to Islamabad under police custody," he said.