Azerbaijan opens for all initiatives with private sector: envoy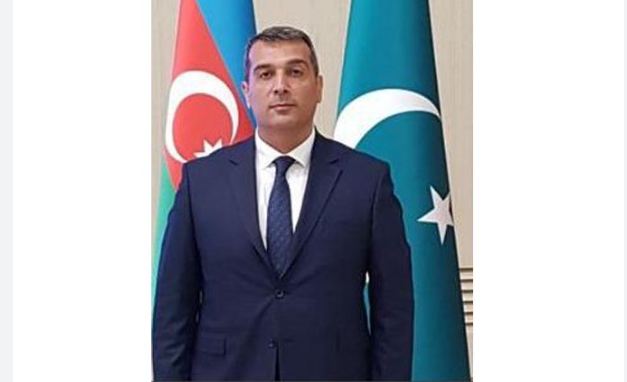 LAHORE, FEB 04 (DNA): Ambassador of Azerbaijan Khazar Farhadov has said
Azerbaijan has started direct flights from Lahore, Karachi and Islamabad
to Azerbaijan and as a result, 50 thousand Pakistanis flown to
Azerbaijan last year. This has also helped to increase the trade
turnover three times.
He was speaking at the Lahore Chamber of Commerce and Industry. LCCI
President Kashif Anwar, 3rd Secretary, Embassy of Azerbaijan Behbud
Gadali and LCCI Executive Committee Members spoke on the occasion.
The Ambassador said that in the last 1.5 years, since he came to
Pakistan as an ambassador, this is his third visit to LCCI which shows
our intent for the business and trade relations with Pakistan.
He said that Lahore Chamber is a biggest chamber and also represents the
provincial capital of the largest province of the country. This also
shows the possibilities and opportunities both countries possess.
The Ambassador also emphasized on the need for exhibitions which he
termed most important and significant to increase bilateral trade. We
have already delegations from Islamabad and Gujranwala Chambers and we
hope to see a delegation from LCCI very soon.
He said that we have a very easy visa process which takes only three
hours to get Azerbaijan visa. Trade is not only government's or business
community's task but all the segments of society can also help in this
regard as we believe that today's tourists can be a tomorrow's trader or
student or a high government official.
He said that Azerbaijan has established a few working groups and also
increase the number of those working groups and we are already working
to cooperate in energy, health and agriculture sector of Pakistan.
He said that private sector must take an active role as relations of
both the countries are unique. Pakistan has supported us in our war with
Armenia and never recognized Armenia because of this occupation of
Azerbaijan's territory.
He said that our people and our government highly appreciate Pakistan's
support. Azerbaijan has a trade surplus of around 26 billion USD which
shows that we are a successful in term of our business projects. We have
very good trade relations with Turkey and Azerbaijan has invested 12
Billion USD in Turkey and Turkey also invested 10 billion USD in
Azerbaijan. We also want same economic relations with Pakistan so that
the three flags of Pakistan, Azerbaijan and Turkey can fly together.
He said that we are already importing rice from Pakistan and Pakistani
rice has a huge market in Azerbaijan. He said that we want trade
relations in the favor of Pakistan and want to sign Preferential Trade
Agreement with Pakistan to boost economic relations. He said that more
than 300 businessmen have visited Azerbaijan which is encouraging to
see.
He said that Azerbaijan has lifted the duties on rice and it is high
time to export rice from Pakistan to Azerbaijan.
LCCI President Kashif Anwar accepted the invitation extended to him by
the Azerbaijan Ambassador and also agreed to plan a delegation to
Azerbaijan soon. He said that Azerbaijan is open for all initiatives
with private sector.
LCCI President Kashif Anwar said that Pakistan and Azerbaijan have good
diplomatic relations but we have yet to succeed in translating these
ties into maintaining sound bilateral trade.
He said that according to the trade figures taken from the State Bank of
Pakistan, Pakistan's exports to Azerbaijan in 2021-22 were 6.3 million
dollars which considerably dropped from 15.5 million dollars in 2020-21.
However, the imports from Azerbaijan improved to 1.5 million dollars
from 0.7 million dollars during that period.
He said that there is a need to explore the ways of increasing trade
between both countries. The main reason of such a low level of trade is
lack of proper information about each other's markets. He said that
Pakistan's exports to Azerbaijan are mainly comprised of Rice, textile,
and frozen meat while we import Petroleum gas from Azerbaijan. There is
definitely a need of finding new products lines and new avenues of
cooperation for enhancing trade between Pakistan and Azerbaijan.
The LCCI President said that Pakistani products including
pharmaceuticals, surgical instruments, sports goods, value-added
textiles, leather products, home-made crafts, processed food and
engineering goods have great scope in Azerbaijan. There is a great
potential of Joint Ventures in tourism sector. Azerbaijan can also
benefit from the expertise of Pakistan in IT sector.
He said that the commercial sections of our respective embassies have to
play a positive role in this connection. Similarly, in order to increase
private to private contacts and bilateral trade, the embassies and
chambers should provide every possible assistance. He said that both
countries should plan to organize exchange of trade delegations and also
holding single country exhibitions on reciprocal basis. DNA
====