AZERBAIJAN ELECTIONS: Head of OSCE election observation mission visited state committee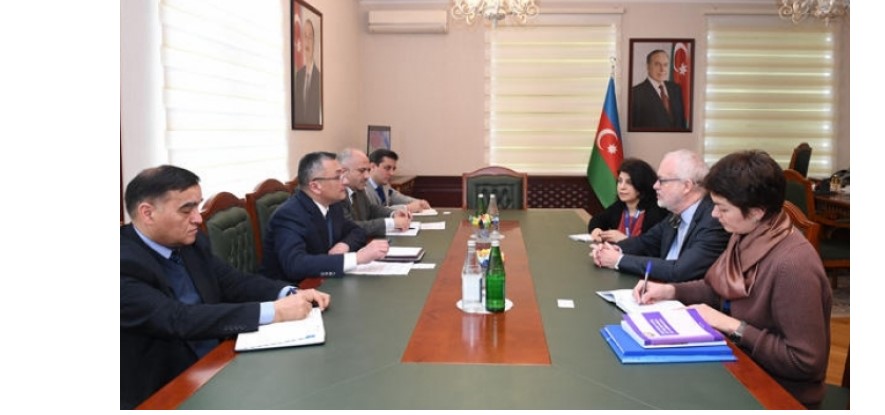 BAKU, FEB 06 — Chairman of the State Committee for Refugee and IDP Affairs Rovshan Rzayev has met with head of the Election Observation Mission of the OSCE Office for Democratic Institutions and Human Rights (ODIHR), Ambassador Peter Taylor and the election analyst Masa Janjusevic, the State Committee told.
Rovshan Rzayev provided an insight into the current state of the refugees and IDPs who had been displaced from their homeland as a result of the Armenia-Azerbaijan Nagorno-Karabakh conflict, as well as the state care shown to them.
He noted that through its occupation policy, Armenia continues to violate a number of fundamental rights, including the electoral rights of these people. "Though the internally displaced people who have lost their homeland participate in the presidential and parliamentary elections, they are left outside the municipal elections, which is the local self-government body, because their permanent residences are still under Armenian occupation. It is regrettable that there is no international pressure on the aggressor state that does not implement the UN four resolutions on the liberation of those territories."
The chairman of the State Committee expressed his hope that the internally displaced people would actively participate in the parliamentary elections to be held on February 9 in Azerbaijan, underlining the impossibility of interference of central and local executive authorities in the election process.
Chairman Rzayev hailed the existing democratic election environment in Azerbaijan.
Expressing his gratitude for the warm reception and detailed information, Ambassador Peter Taylor highlighted the activities of the long-term election observation mission. He also shared his views on the participation of refugees and IDPs in the early parliamentary elections. Drawing the audience's attention to the information of the Central Election Commission, Taylor noted that the internally displaced people will cast their votes in more than 500 polling stations in 14 constituencies, adding that the OSCE observers will fulfill their mission in these constituencies and polling stations as well.
Chairman of the State Committee Rovshan Rzayev responded to questions of the visiting side and wished all the best in their mission.
The sides also discussed other issues of mutual interest.