Ayaz new Vice Chair of 11th Parliamentary Union of Islamic countries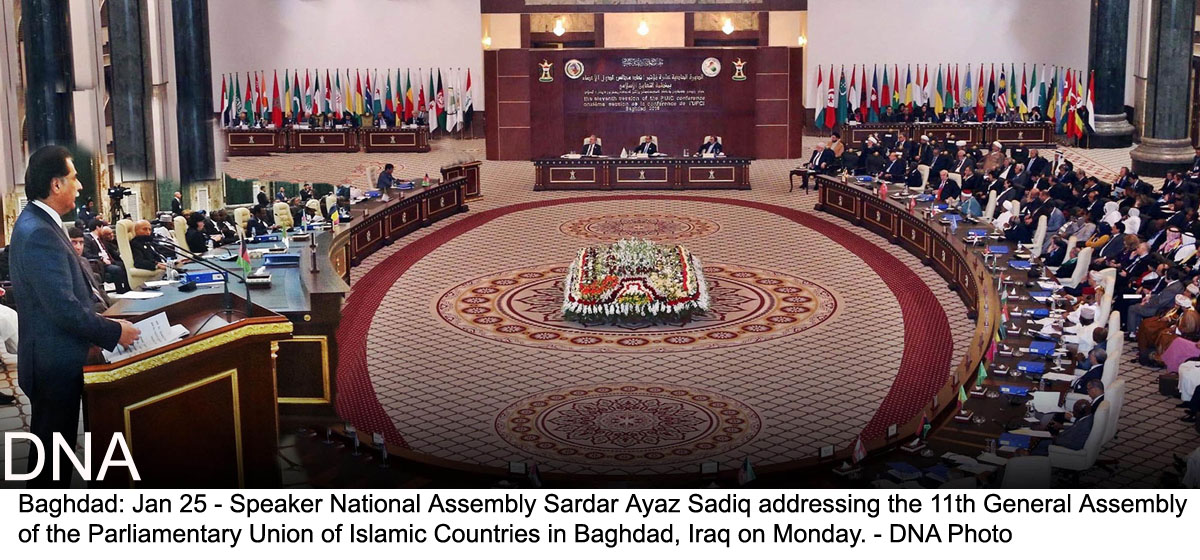 ISLAMABAD, Jan 25 (DNA): Speaker National Assembly, Sardar Ayaz Sadiq was unanimously elected as the Vice Chairman of the 11th General Assembly of the Parliamentary Union of the Islamic Countries which was jointly inaugurated amidst much fanfare here in the Iraqi capital by the President of Iraq Mr. Fuad Masumand and the Prime Minister Haider Jawad Kadhim Al-Abadi, according to a message received from Baghdad.
While proposing Sardar Ayaz Sadiq's name, the Speaker of Iran Dr. Ali Larijani paid rich tributes to Pakistan's struggle against terrorism and the sincere efforts of its leadership to unite the Muslim Ummah. This was carried unanimously by all Speakers and head of delegations from 32 countries attending the moot.
Speaker Ayaz Sadiq, meanwhile, had a busy day in Baghdad where he held meetings with the Speakers of Iran, Kuwait and Somalia along with the parliamentarians from Egypt, Palestine, Afghanistan and Kurd Autonomous Region.
In his meeting with the Kuwaiti Speaker, Marzouq Al-Ghanim, Sardar Ayaz Sadiq stressed for unity and reconciliation among the Ummah. The two sides took note of the deteriorating situation of Middle East while the Speaker of Kuwait praised the efforts of Pakistan's Prime Minister in playing a role of bridge between Saudi Arabia and Iran.
The Iranian Speaker Dr. Ali Larijani also expressed his appreciation for Pakistan's efforts and stressed for widening the cooperation among Muslim States. Speaker Ayaz Sadiq congratulated Iranian Speaker on the lifting of sanctions and hoped that the recent development in that regard would usher into a new era of development in the region.
Speakr Ayaz Sadiq, in his meeting with his Somali counterpart Mohammad Sh. Osman Jawari extended Pakistan's complete support to the developing Parliament of Somalia in terms of trainings and legislative drafting. The Somali Speaker took keen interest in the "Protection of Pakistan Act" and other similar legislation, carried out by Pakistan's Parliament in combating terrorism.  DNA