At least 7 killed as 'record-breaking' rain lashes Lahore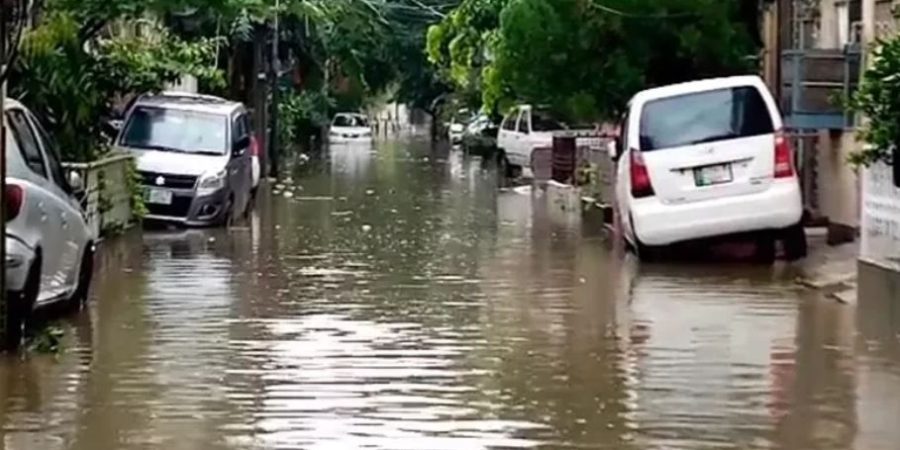 At least seven people were killed in Lahore on Wednesday as "record-breaking" rain lashed the city, causing urban flooding and damage to infrastructure.
According to Punjab caretaker Chief Minister Mohsin Naqvi, the deaths took place due to roof collapses, drowning and electrocution.
He said Lahore had received "record" rainfall of 291 millimetres today, which the interim CM claimed was unexpected.
Earlier, talking to media persons on a tour to different parts of the city, Naqvi said, "We have dispatched teams across the city to clear main roads and drain water from submerged areas."
Naqvi said areas such as Muslim Town, Garden Town and Gulberg were majorly inundated due to the overflow of water from the Lahore Canal.
He further stated that another spell of rain was expected to hit the city at 9pm and the authorities were preparing for that, adding that he was monitoring the efforts himself.
Latest figures released by the Water And Sanitation Agency (Wasa) showed that more than 200 millimetres of rainfall was recorded in parts of the city over the last 10 hours.
This image shows the amount of rainfall recorded in Lahore since 3:55am.
The data showed that the highest amount of rainfall (291mm) was recorded in Lakshmi Chowk, followed by 277mm in Nishter Town and 270mm in Qurtaba Chowk.
Separately, Gulshan-i-Ravi recorded 268mm, Pani Wala Talab 268mm, Johar Town 260mm, Tajpura 249mm, Farrukhabad 237mm, Iqbal Town 232mm, Mughalpura 215mm, Wasa head office in Gulberg 208mm, Chowk Nakhuda 205mm, Upper Mall 192mm, Samanabad 178mm, Jail Road 145mm and Airport 127mm.
Wasa Managing Director Gufran Ahmed said rainwater across the city would be drained within three to four hours, adding that all the disposal systems were being run at the optimum capacity.
Separately, Lahore Commissioner Muhammad Ali Randhawa said that such a large amount of rainfall in such a short amount of time had not been received for the past 30 years. He said that last year 238mm of rainfall was recorded while 288mm was received in 2018.
Meanwhile, the Met Office has said the showers are expected to continue intermittently in Lahore for the next 24 hours.
PM tells Naqvi to mobilise relief teams
Prime Minister Shehbaz Sharif also took notice of the situation and directed the Punjab caretaker chief minister to immediately mobilise relief teams. "All possible steps should be taken to protect people's lives and property," he said.
He also directed the federal government and the National Disaster Management Authority to assist the provincial government if necessary. He directed them to take the necessary steps for warning citizens, arranging alternative traffic routes and draining the rainwater accumulated.
PM Shehbaz also directed authorities to take the necessary steps in other parts of the country receiving rainfall. "The NDMA, in collaboration with the provincial disaster management authorities, should provide assistance," he said.
The premier said that steps should be taken to protect livestock and to transfer citizens living in low-lying areas to safer plains. "Urgent and necessary steps should be taken to prevent urban flooding," he said.
Shehbaz also directed authorities to mobilise the district administration in all hilly areas, including Gilgit-Baltistan, Azad Jammu and Kashmir and Khyber Pakhtunkhwa. He also instructed authorities to keep the Prime Minister's Office abreast of all developments.
Separately, he also took notice of electrocution in Lahore and sought a report on the incident from the inspection commission. He added that the investigation would determine whether the incident took place due to the inefficiency of the Lahore Electric Supply Company.
3 die in rain-related incidents in KP
At least three people were killed in various areas of Khyber Pakhtunkhwa on Tuesday due to rain-related incidents, specifically, tree falls, local authorities said.
According to Provincial Disaster Management Authority KP, two fatalities were reported in Shangla, and another individual lost his life in Karak.
Dark clouds hover over an area in Karak. — Photo by author
The statement said that seven individuals sustained injuries, and more than six houses were partially damaged as a result of the rainfall.
Considering the forecast of further downpours, the PDMA said it had directed the Rescue 1122, and district administration to remain on high alert.
Relief Secretary Abdul Basit issued instructions to officials to assess the losses caused by rain-related incidents, the statement added.
In a statement issued later today, PM Shehbaz expressed grief over the loss of lives and prayed for the departed souls. He also directed the provincial government to provide the best medical facilities to injured people.
Heavy rainfall predicted
Meanwhile, the Pakistan Meteorological Department has predicted heavy rainfall for other parts of the province, including Sialkot, Narowal, Gujranwala, Gujrat, Jhelum, Rawalpindi, Attock, Chakwal, Toba Tek Singh, and Mandi Bahauddin.
The department highlighted the infiltration of moist currents from the Arabian Sea into the upper regions of the country. Additionally, an impact from a westerly wave is being observed in the upper and central parts of Pakistan, it added.
"Rain-wind/thundershower is expected in Kashmir Murree, Galliyat, Rawalpindi/Islamabad, Jhelum, Attock, Chakwal, Sargodha, Mianwali, Faisalabad, Jhang, T T Singh, Bahawalnagar, Narowal, Sialkot, Sahiwal, Gujranwala, Gujrat, Mandi Bahauddin, Hafizabad, Lahore, Bhakkar, Layyah, Multan and Dera Ghazi Khan districts," the Met Office said.
In KP, rain and thunderstorm is expected in Chitral, Dir, Swat, Kohistan, Mansehra, Abbott­abad, Malakand, Balakot, Char­sadda, Mardan, Peshawar, Kohat, Kurram, Bannu, Waziristan and Dera Ismail Khan.
In its forecast issued yesterday, the PMD had also warned of urban flooding as a result of expected heavy rainfall in low-lying areas of Punjab, Khyber Pakhtunkhwa, Gilgit-Baltistan and Balochistan in the next two days.
The National Disaster Management Authority (NDMA) had issued directives for all relevant departments to stay vigilant due to predicted rainfall until July 8. Additionally, it advised tourists and visitors to stay informed about weather conditions before travelling, while urging farmers and livestock owners to take necessary precautions considering the current weather conditions.
"Rain, wind and thundershowers are expected in Azad Jammu and Kashmir, GB, KP, Islamabad, the Potohar region, upper and central Punjab, and northeast Balochistan. Isolated heavy falls are also expected in upper Punjab, Islamabad, Kashmir, and Khyber Pakhtunkhwa during the period. Hot and humid weather is expected in other parts of the country."
According to an NDMA spokesperson, these can trigger land sliding in hilly areas and flooding in the lowlands.