Asif, Siraj defend Rashid's statement about Madrassas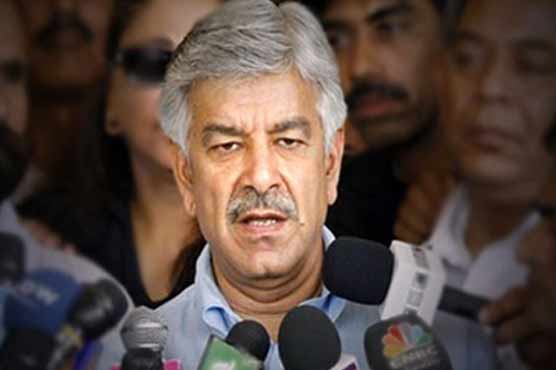 ISLAMABAD: Defence Minister Khawaja Asif, along with Jamat-i-Islami chief Sirajul Haq defended Information Minister Pervaiz Rasheed's earlier statements calling religious seminaries "centres of ignorance and illiteracy" outside the National Assembly on Tuesday.
He said Rasheed had referred only to a few seminaries against whom there is evidence of involvement in terrorism.
The defence minister asserted that out of the approximately 25,000-28,000 seminaries in Pakistan, there are about 300 to 400 who assist miscreants or directly facilitate terrorism.
He went on to say that putting up banners or announcing fatwas against Rasheed is not a service to Islam.
He added that the information minister had already apologised and offered a clarification on his remarks in Senate, so the matter should be let go.
Pervaiz Rasheed faced heavy criticism from religious elements, mainly belonging to the Deobandi school of thought, following an address to a conference in Karachi on May 3 where, speaking about madrassas, he said "These universities of ignorance, to whom we give donations and hides, are giving an ideology of hatred and conservativeness to the society."
Seminaries have come under greater surveillance following the December 2014 attacks on Peshawar's Army Public School.
Reports released by the Punjab and Khyber Pakhtunkhwa (KP) provincial governments investigating seminaries revealed 147 foreign-funded seminaries in Punjab, and 145 'highly-sensitive' seminaries in KP.