Asia, Africa Partnerships & Silk Road at the top of the agenda in Dakhla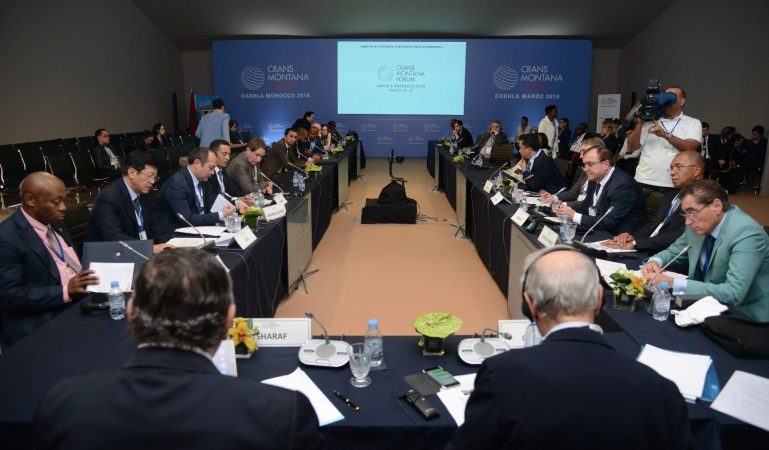 DAKHLA, MAR 18 (DNA) – An exceptional International Conference focusing on Asia-Africa Partnerships & the Silk Road is held in Dakhla in the framework of the Crans Montana Forum on Africa & South-South Cooperation.
Five years after the launch of the "One Belt, One Road" initiative by the Chinese President Xi Jingping, African Growth is increasingly boosted by global investments and new partnerships with Asia. Meanwhile, Morocco is emerging as a new gateway to the Silk Road thanks to its strategic commercial position between Europe and Africa.
Moderated by Mr. Jean-Louis Guigou, President of the Institute of Economic Prospective of the Mediterranean World, this International Conference welcomed two Guest Speakers, Mr. Essam Abdel-Aziz Sharaf, Former Prime Minister of Egypt and Member of the Silk Road NGO Cooperation Network (SIRONET), and Mr. Petre Roman, Former Prime Minister of Romania.
Participants discussed the stakes and opportunities of the Silk Road for Global Trade, especially between South-East and Central Asia economies and Africa.
The panel of Speakers of this International Conference includes Mr. Bonifacio Mitogo Bindang, Minister Delegate for External Relations & Cooperation of Equatorial Guinea, Mr. Amadeu de Jesus Alves Leitao Nunes, Secretary of State for Angola, Mr. Xiansheng Sun, Secretary General of the International Energy Forum, Mr. Mircea Ciopraga, Secretary General of the Transport Corridor Europe-Caucasus-Asia Intergovernmental Commission, Mr. Altynbek Mamaiusupov, Secretary General of the Parliamentary Assembly of Turkic-speaking countries, Mr. François Davenne, Secretary General of the Intergovernmental Organisation for International Carriage by Rail, Mr. Dino Patti Djalal, Former Dep. Minister of Foreign Affairs of Indonesia, and Mr. Mohammed Jebbar, CEO of BC Skills (Morocco).=DNA
==============