Anwaarul Haq Kakar cannot hold 'transparent' elections: Aimal Wali Khan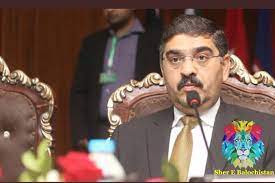 QUETTA, AUG 13 (DNA) — Awami National Party (ANP) has raised reservations about the transparency of the elections under the supervision of caretaker PM Anwaarul Haq.
On Saturday, the name of Senator Anwaarul Haq Kakar, a leader of Balochistan Awami Party (BAP) was approved by the president on the advice of PM Shehbaz Sharif, after reaching a consensus in his meeting with Opposition Leader Raja Riaz.
Awami National Party President Aimal Wali Khan claimed there was no role of PM Sharif and Raja Riaz in the nomination of Anwaarul Haq and added there can be no transparent elections under his supervision?
Aimal added that the caretaker prime minister in 2018 failed to hold free and fair elections and the current caretaker PM is also not different.
He said that elections should be free of any interference as Constitution has been on ventilator since 2018.
Replying a question, the ANP leader said whatever is happening with the PTI chairman is in accordance with the law. It may be noted Senator Anwarul Haq Kakar was selected as Pakistan's caretaker prime minister. President Arif Alvi also signed the advice forwarded by PM Shehbaz and Raja Riaz in this context. — DNA
========================