Ambassador Javed Malik Awards Younas Khan in Dubai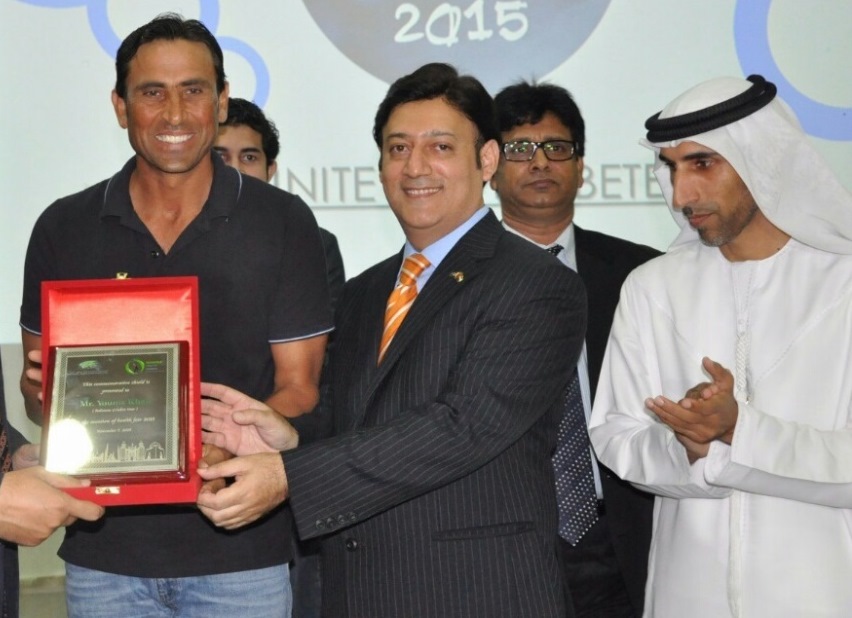 (Dubai (DNA) Pakistan's Ambassador at Large, Javed Malik presented a Special Appreciation Award to star cricketer Younas Khan at an impressive ceremony organized in Dubai. The award aims to recognize the record breaking achievements in the world of cricket by the former Pakistan captain and top scoring batsman. Speaking on the occasion, Ambassador Javed Malik said " Pakistan is full of talent and gifted individuals and it remains our effort not only to recognize them for their achievements, but also highlight their valuable contributions at an international scale. He said that "Younas Khan's record breaking performances have made Pakistan proud, and Pakistanis living inside and outside Pakistan appreciate that.
While highlighting the changing trends of diplomacy, Ambassador Javed Malik said that the nature of modern day diplomacy is changing and members of public like our sportsmen, our artists, musicians and writers also have a significant role, and we can work together to complement eachother and pave the way for building a positive image of Pakistan globally. While thanking, Ambassador Javed Malik and the Pakistani community in UAE, Younas Khan said that he was truly honored to be meeting Pakistanis in UAE and thanked everyone for their support and good wishes.
The ceremony also featured a health awareness campaign among the Pakistani Youth and Pakistani community in UAE, in which hundreds of Pakistani Youth and community leaders from Pakistani Association took part. Ambassador Javed Malik appreciated the work of Pakistan Association and Pakistan Youth Forum and complimented Dr Jamila Haq, Dr. Feisal and Mr. Zahid Trimizi for organizing a well- attended ceremony.