Aizaz seeks a sustained, comprehensive partnership with EU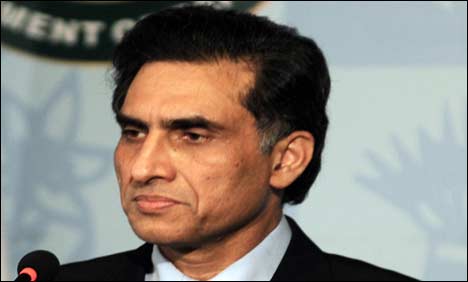 BRUSSELS, 02 JUNE (DNA) –   Foreign Secretary Aizaz Ahmad Chaudhry has sought a sustained and comprehensive partnership with the European Union (EU) with particular emphasis on economic content.
Aizaz Ahmad Chaudhry, while leading a delegation at the third Round of Political Dialogue with the EU held in Brussels, expressed satisfaction at the upward trajectory of Pakistan – EU relations and appreciated the EU for extending GSP+ facility, which had helped stimulate trade relations between Pakistan and Europe.
According to Foreign Office press release, Aizaz Chaudhry said the foreign secretary also underlined the need for a comprehensive and sustained economic framework. The two sides looked forward to hosting of the Pakistan-EU Strategic Dialogue at the Ministerial level later this year.
Leading the EU delegation, Ms Helga Schmid, Deputy Secretary General, European External Action Service noted the progress made in the implementation of Five Year Engagement Plan and affirmed EU's desire to expand relations with Pakistan in diverse areas of cooperation, the press release said.
She also appreciated steps and initiatives Pakistan had taken for promotion and protection of human rights, it said. Moreover, issues of mutual concern were also discussed in particular, the situation in Afghanistan, South Asia and the Middle East.
The EU side gave an overview of the challenges faced by Europe including regional security, terrorism and migration. Availing the opportunity of his stay in Brussels, the Foreign Secretary also called on his Belgian counterpart, Mr. Dirk Achten, Secretary General of the Foreign and Trade Office on May 31, 2016.
The Foreign Secretary conveyed sympathy and solidarity with the Government and people of Belgium on the terror attack in Brussels on March 22, 2016. The two sides agreed to enhance bilateral cooperation across all spheres, including parliamentary exchanges, bilateral political consultations between the Foreign Ministries and linkages between education institutions.
The Foreign Secretary delivered a talk at the prestigious European Institute of Asian Studies (EIAS) on Pakistan's role and contribution in peace and security in South Asia on 31 May 2016.
The event was well attended by diplomats, academia, think tank community and Pakistani diaspora. There was keen interest in Pakistan's efforts to bring peace and stability in Afghanistan, Pakistan-India relations as well as other issues including China-Pakistan Economic Corridor (CPEC), radicalization and countering violent extremism, etc.
Meantime, Ambassador Naghmana A. Hashmi, Pakistan's Ambassador to Belgium, Luxembourg and the European Union, hosted a dinner in honor of the Foreign Secretary where he interacted with Belgian, EU and NATO officials.
A special reception was held at the Pakistan Embassy where the Foreign Secretary met with members of the Pakistani diaspora. It should be mentioned here that that the Foreign Secretary's visit to Brussels is part of a series of scheduled engagements to enhance relations between Pakistan and the EU. DNA