AFT to showcase cultural diplomacy, UN unity on Nov 2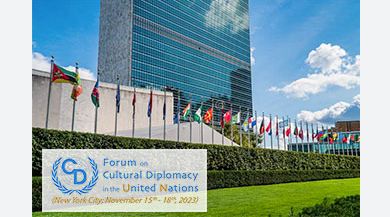 DNA
ISLAMABAD, OCT 21– Devcom-Pakistan in collaboration with the Ministry of National Heritage and Culture, and Pakistan National Council of the Arts (PNCA) will put up a second edition of 'All Flags Together' (AFT 2023) on Thursday November 2 at the PNCA premises. Different educational institutions and organizations will be collaborating to inculcate cultural understanding for peace and showcasing the strength of cultural diplomacy, said the Executive Director Devcom-Pakistan Munir Ahmed in a statement on Saturday.
Participation of over ten thousand is expected in the daylong activities of cultural engagement of youth and citizens, said Munir Ahmed adding, the cultural showcasing helps understanding each other and closing the gaps while working in collaboration leads to unity for peace and development. We shall aim to understand each other's national heritage and the valuable work for peace and development. The AFT 2023 has provided different national and international stakeholders to come together and share their thoughts, culture and work.
Giving the details of the event, Munir Ahmed said: "The event will provide youth to interact with diplomats and the UN officials during the youth conference and interactive panel discussion with the experts on 'Building Global Peace on Human Development and Cultural Understanding'. The daylong event will also include international food stalls, art and craft exhibition, showcase of organizations work, music and cultural performance. It will be a free-entry event for the public but on invitation cards that will be available on different outlets in the twin-cities of Islamabad and Rawalpindi."
Munir Ahmed said: Reviving the AFT is meant to stand by the UN organizations and its member states that are struggling for human rights, ensuring protection of cultural heritage, promoting peace through interfaith harmony, democracy and development. Unity and understanding is imperative to mark the UN day annually on 24 October to celebrate the anniversary of the entry into force in 1945 of the UN Charter. The UN is the only global organization with the legitimacy that we need to back strongly to support its mandate. No other global organization gives hope to so many people for a better world and can deliver the future we want. Today, the urgency for all countries to come together, to fulfil the promise of the nations united, is much greater than ever before.
The UN System is a symbol of hope for global unity, development, peace and prosperity. Cultural collaboration is the best model for global unity. All Flags Together is a concept of a daylong event to bring diplomats, expats, development and UN organizations and natives together for a cohesive and collaborative effort to close the gap of bilateral and multilateral and cultural understanding, the Devcom-Pakistan Executive Director said.